Fibre and 5G will get customers cracking open wallets, or so Cisco hopes
CTO alludes to Brexit as a factor in sluggish UK sales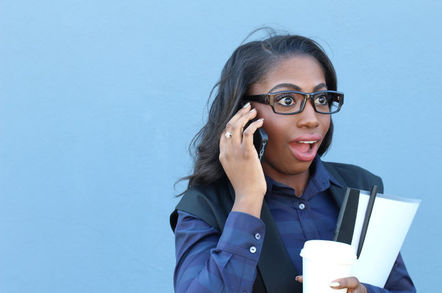 MWC Weak customer spending on networking gear will pick up once organisations start splashing cash on next gen tech like 5G, with Brexit also playing a part in sluggish sales, Colin Kincaid, CTO at Cisco's Service Provider Business has said.
Speaking to The Register at Mobile World Congress in Barcelona, Kincaid said technologies such as Data Over Cable Service Interface Specification (DOCSIS), fibre and 5G will result in a "significant spend cycle as those technologies start to go broad."
In its second-quarter last month, Cisco posted a drop of 2.9 per cent to $11.58bn (£9.4bn), due to a fall in routing and switching systems. Sales in Europe, the Middle East and Africa (EMEA) were flat, with chief exec Chuck Robbins noting: "Europe is stressed with geopolitical dynamics across several countries."
Kincaid would not elaborate further on the geopolitical dynamics, but admitted Brexit had been one "impactful" factor in Blighty.
Cisco announced this week that it will be providing US mobe carrier Verizon's mobile network with pre-commercial 5G architecture for use during trials of the new network technology during 2017.
But Kincaid said while the company was "engaged" with UK customers about 5G, it does not have any similar 5G announcements in the pipeline.
"The UK is also a slightly different market than the rest of Europe. Right now most companies have much more focus on wire line access, so 5G is on people's minds and clearly where the entire market is shifting, in the UK we see much more emphasis on wireline technology."
He said: "That is the cycle that is happening in the UK. I don't in any way want to make it sound like 5G isn't interesting in the UK. It is just where the spend cycle is."
Cisco is trying to reinvent itself as a software biz, with Robins noting that it had secured 51 per cent growth in recurring revenues for the second quarter. However, that was clearly not enough to offset its overall fall in sales with the company having now posted declines for five consecutive quarters.
To boost its software offerings, Cisco said it will splash $3.7bn (£2.9bn) for AppDynamics, a deal that has yet to be complete. Last year the borg bought IoT software biz Jasper for $1.4bn (£1.1bn).
Kincaid said: "As a company, we are making a significant transition to recurring revenue streams. Which isn't just traditional software, it is also in terms of how we sell our traditional products in the switch and route space."
He added: "I think we are moving in that direction. We would like to move faster in that area, but there is also an adaption of our customers to a new consumption model as well." ®