Samsung phones, Apple's iPhones are 'overpriced', says top Huawei exec
Don't call us cheap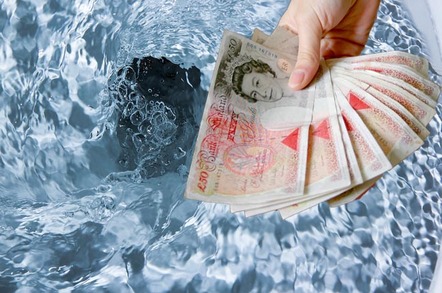 MWC Interview Although Huawei phones are getting more expensive, the company still thinks Samsung and Apple phones are "overpriced", a top executive told us this week.
As president of Huawei's consumer business for Europe, Walter Ji looks after one of the company's roaring successes. Although Huawei lost its top spot in China last year, it made a huge impact in Europe.
And it's something The Register predicted before anyone else. Exactly three years ago I described Huawei, then still a smartphone unknown with no 4G model in its portfolio and an infant consumer business, as "Samsung and Apple's worst nightmare". This claim was met with derision, but the design seemed exceptional, and the boffinry that Huawei was incorporating into the devices was thoughtful and practical.
Three years ago, Huawei was boasting how miserly its consumer marketing would be. It promised to only fund marketing from past profits, and preferred word-of-mouth because it didn't cost much. But last year it was hiring Scarlett Johansson to promote the brand.
Scarlett doesn't come cheap, and Lionel Messi reportedly received $6m to be a Huawei "global brand ambassador".
We kicked off with Huawei's portfolio and pricing strategy. We put it to Mr Ji that we could no longer consider a Huawei purchase as a big money saver over rival flagships. And the successor to the breakthrough Honor 7, the Honor 8, was more upmarket.
"Not as cheap but not as expensive as the others," he replied. "We have a good chance in the smartphone industry. Samsung and Apple are overcharging, especially. Samsung. They spend a lot on marketing. Our philosophy is more on product: the product is even more important. To bring real value to our consumers."
Although the P series is more expensive than competing products, he says, those are also more pricey than they use to be.
"The P10 Plus will be €699 but now the others are €800 and €900. We had the P9 for €449 last year, it's €399 now; the P10 starts at €549. Samsung's Galaxy S7 is still more expensive than us.
"As a challenger, we believe the most important thing is the product innovation."
He was proud that TechMedia's benchmarks ranked the P9 as the number-one smartphone, and it was still cheaper than rivals.
The two flagships – Mate and P series – continue this year, "the Mate more for business and efficiency, and P is more arts, design, photography and fashion".
Nor will Huawei compete in the bargain basement.
"It's best to have in a product above €100. So at €100, we're not even going to have a product there," he confirmed.
Last year the Leica branding promoted the photography. This year Huawei emphasised the fast charging it had developed in house.
"Half an hour of charging gives you a day of work," Ji said. "The P10 is 3,200 mAh and the P10 Plus 3,750 mAh; more than enough for one day heavy user and one-and-a-half days for a typical user. You don't worry.
"How? We control the current and the voltage; 4.5 amps and 9 watts. If it's not stable we reduced the wattage or the current to ensure the phone is not overheating. The biggest problem is overheating."
We also asked Mr Ji if Huawei was brewing its own phone OS, as reports suggested last year. And we reminded him that Google's Android successor, Andromeda, has surfaced.
He neatly sidestepped the issue. Huawei can make plenty of useful changes as it is, he implied.
"Android is our major platform. On top of Android we do the Emotion UI, and we optimise the system – the memory, write and read, read locations, the CPU scheduling. All to prevent the phone slowing down.
"The Kirin 960 [chip] does machine learning, to learn the behaviour of the users, and keep a good speed. In half a year Android can lose half its speed, sometimes 60 per cent lower performance. In our latest technology, we're avoiding that." ®
Sponsored: Detecting cyber attacks as a small to medium business