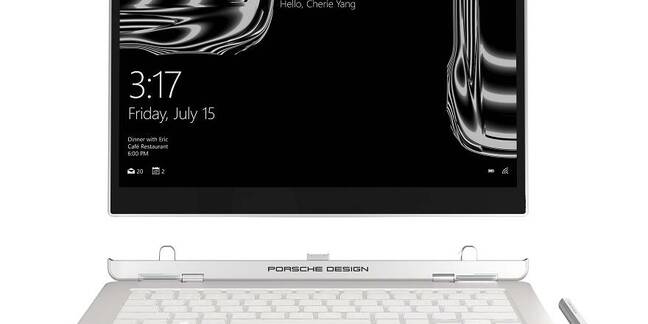 MWC Luxury brand Porsche Design has announced, at Mobile World Congress in Barcelona, its first 2-in-1 computer: a Windows 10 device that will be available in April 2017 for €2,795 or £2,395.
According to chief design officer Roland Heller, the Book One is the first Windows device to have both a detachable keyboard and 360° capability, which means you can fold the screen right under the keyboard to form a chunky tablet.
Another key feature is that unlike most 360° devices, the two halves meet seamlessly whichever way you fold them.
There is only one specification for the Book One, being a 3GHz Intel Core i7-7500U machine with 16GB RAM, 512GB SSD, 13.3" 3200x1800 pixel screen, 5Mp front camera, Intel Thunderbolt 3 port, and an infrared camera for Windows Hello face recognition. There is also a standard USB Type-C port and two USB 3.0 ports. Battery life is quoted as up to 14 hours, and charging time at less than two hours. A custom-designed Wacom stylus comes as standard, magnetically attached to the edge of the screen-slash-tablet part of the device.
It may be no coincidence that a Microsoft Surface Book with a similar specification comes in at nearly the same price, as does an Apple MacBook Pro. This is an expensive device, but aligned with its obvious competition. Part of the Porsche Design ethos seems to be to borrow some element from the Porsche automotive brand, and in this case it is the cog wheel hinge, which looks like something out of a gear box.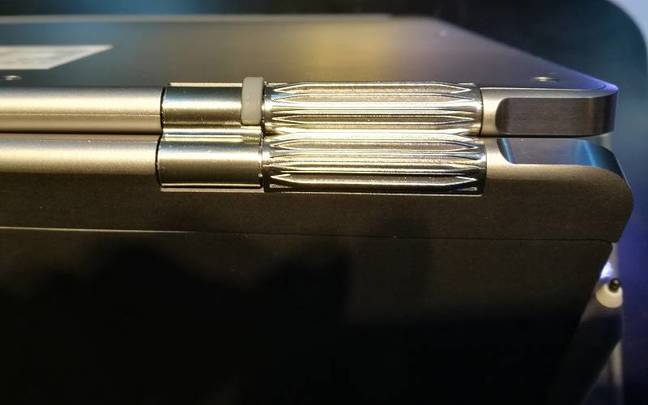 Geared hinges were inspired by the gearbox of a sports car, apparently
The device will be sold as the first item in a new Porsche Design Computing category. It was designed in Germany, but made by Quanta Computing, the large electronics supplier in Taiwan.
Near-final prototypes were on display at the press launch, enabling a quick hands-on demo. The aluminum-finished units do feel solid and well made, though with solidity comes weight, which at 1580g is a more than desirable when used as a fold-back tablet. When detached, the tablet is only 758g, though with only a few hours battery life.
A notable feature is that the screen attaches to the keyboard with a motorized lock. In order to remove it, you press and hold a button on the edge until a small dot appears on the screen indicating that it is unlocked. What happens if you forget and try to rip the screen off without unlocking it first? "You won't be able to," said a Porsche Design representative.
The keyboard is backlit, but I found the action of the keys slightly squishy, disappointing at this price.
The Book One runs Windows 10 Professional configured as a Microsoft Signature Edition, which means it should be free of crapware.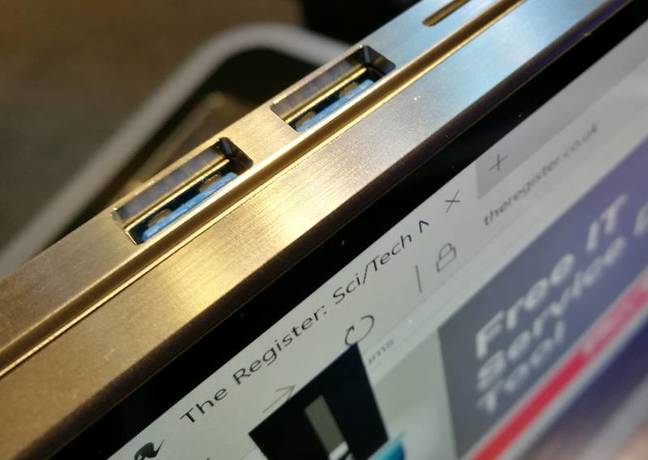 The two halves of the Book One meet exactly even when folded back as a tablet
Porsche Design has a fair point about the way most 360° devices fold back. An HP Spectre x360, for example, has odd gaps between the two halves when used as a tablet, whereas it looks fine when closed like a laptop. On the other hand, even 360° devices are used like a laptop most of the time in my experience, making this only a minor inconvenience. Even the elegant design of the Book One cannot disguise the fact that when folded back it is too bulky and heavy for anything more than occasional tablet use.
Nevertheless, the existence of the Book One [specs PDF] shows that Microsoft has had some success in fostering a premium Windows device market via its Surface initiative. ®
Sponsored: How to simplify data protection on Amazon Web Services