In a loving tribute to its fiery washing machines and Note 7... Samsung management explodes
Heir-apparent slapped with bribery, embezzlement charges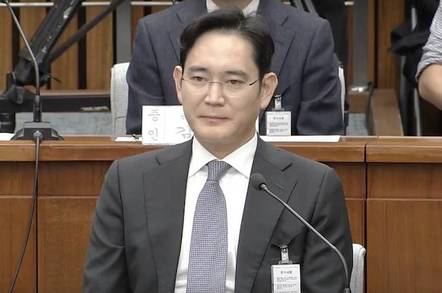 Samsung supremo Lee Jae-yong has been formally charged with bribery and embezzlement – sparking the dramatic shut down of the tech giant's top strategic office.
Lee, aka Jay Y Lee, was indicted Tuesday by the South Korea special prosecutor's office for his alleged role in a high-profile bribery scandal that has already led to the impeachment of the country's president.
The formal charges against Lee – who is Samsung's vice-chairman and the electronic's giant heir-apparent – come less than two weeks after he was collared by cops. Corporate strategy boss Choi Gee-sung was also arrested and charged with helping to facilitate bribes between Samsung management and associates of President Park Geun-hye.
Lee is among top South Korean figures embroiled in an influence-peddling probe that accuses Samsung execs of bunging officials cash in exchange for favorable treatment from the government.
The scandal has led exploding phone and washing machine maker Samsung to hit pause on some of its corporate operations. Shortly after the charges were announced, the consumer electronics giant said it would be dismantling the Corporate Strategy Office, a key policy-making group that oversees Samsung's multiple affiliate and branch companies.
Lee was said to have used the group to wield control over Samsung's various holdings and coordinate efforts, including government lobbying. Members of the group are believed to have been behind the bribery payments that led to the indictment.
Specifically, Samsung execs under Lee's direction are thought by prosecutors to have donated $37.6m to one of Park's advisors, with the understanding that regulators would then approve Samsung's 2015 merger with Cheil Industries. Lee, through Samsung spokespersons, has denied the charges.
According to multiple reports, with the Strategy Office having been broken up, Samsung's various branches and affiliates will handle their day-to-day operations autonomously under the direction of their respective CEOs and boards. ®
Sponsored: Detecting cyber attacks as a small to medium business