Low-key Samsung: Psst. We've got new Galaxy tablets and new Gear VR
You'll have to wait for Galaxy S8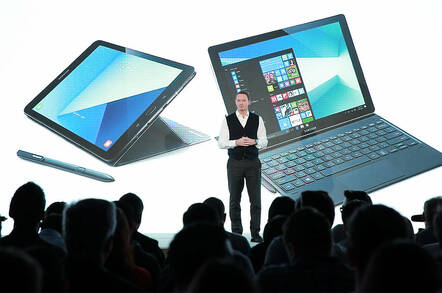 MWC Samsung's press event at Mobile World Congress was subdued in comparison to recent years, reflecting a difficult year for the company, and the conspicuous absence of the forthcoming Galaxy S8 smartphone.
The appearance of a slide entitled Customer Safety reminded attendees of the exploding battery issues that afflicted the 2016 Galaxy Note 7.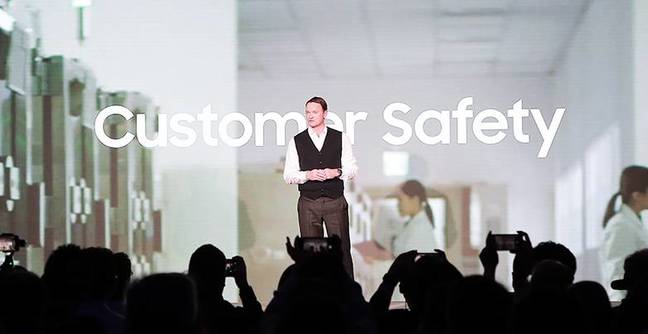 We're all about customer safety says Samsung
Another surprise was that the star of Samsung's MWC show was not an Android device, but one running Windows, the Galaxy Book.
Microsoft Exec VP of Business Development Peggy Johnson came on stage as Samsung announced "an expanded strategic partnership with Microsoft" as the company launched its would-be Surface-beaters.
The Galaxy Book comes in 10.6" (1920x1280 pixels) and 12" (2160x1440)variants, complete with keyboard covers and S-Pen. You get 4GB RAM and 64 or 128GB storage on the 10.6", powered by Intel's dual-core 2.6 GHz m3 processor. The 12" model has a dual-core 3.1 GHz i5 processor, 4 or 8GB RAM, and 128 or 256GB storage. Both support microSD cards for additional storage.
Combined with the S-Pen, which does not require a battery, you get Samsung-specific features like Air Command, where you hover the pen over the screen and click a button to open a Samsung menu with options including Samsung Notes and Screen Write.
The foldable keyboard cover can be used as a stand in various positions and has several levels of backlighting.
Samsung Flow allows you to use your Samsung smartphone for login, document transfer and synced notifications.
The first Galaxy tablet to run Windows was the 2016 TabPro S. Prices for the Galaxy Book are not yet available, but we were told that they will be similar to the previous series.
Samsung also announced the Galaxy Tab S3, a 9.7" (2048x1536 pixels) tablet running Android 7.0 Nougat. Processor is Qualcomm's Snapdragon 820, quad-core and up to 2.15 GHz. Notable features include 4K (3840x2160) video recording at 30fps, and 4K video playback at 60 fps. Audio is delivered via four speakers tuned using technology from Harman, an audio company acquired by Samsung in November 2016.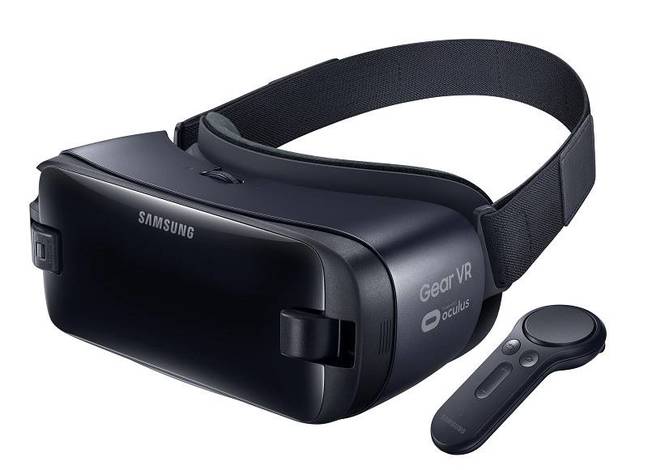 The Gear VR with new controller
Finally, Samsung also announced a new Gear VR headset which comes with a controller, sporting a touchpad, trigger, and keys for home, back and volume. The controller has its own accelerometer and gyroscope sensors. You will need a Galaxy S6 or S7, or a Note 5, in order to use the Gear VR.
What about the Galaxy S8? The company promises a launch event on 29 March, so not too long to wait. ®