Experimental satellite-slinger seeks cargo: What could go wrong?
ESA wants daredevils to help it test the Small Satellites Mission Service atop a Vega launcher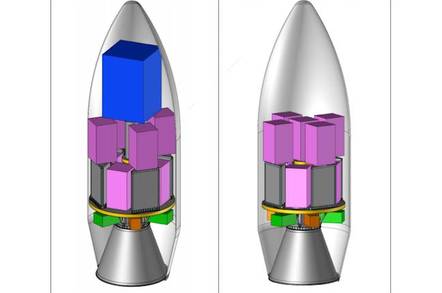 If you've got an application for a small satellite and a stomach for risk, the European Space Agency wants to hear from you. Next year, it's planning a multi-launch demonstration from its Vega spacecraft on a proof-of-concept flight for the Small Satellites Mission Service.
The test launch of the Small Satellites Mission Service (SSMS) dispenser, to take place in the second half of 2018, is intended to drop multiple light satellites into low Earth reference orbit. The ESA thinks doing so is a good idea in pursuit of a goal to make access to space easier, to implement the Light satellite, Low-cost Launch (L3) initiative it adopted as policy in December 2016.
The SSMS dispenser is therefore designed for satellites ranging from 1 kg "cubesats" all the way up to 400 kg units, funded under a "rideshare" model. In its Announcement of Opportunity (PDF), the agency explains that this project will test two elements of the Vega SSMS project: "adapter and dispenser system structures, mechanisms and avionics"; and "mission analysis and launch preparation processes and tools by adaptation of the VEGA standard ones."
Satellites can be proposed for launch into Vega's solar synchronous polar orbits between 500 km and 800 km, but the opportunity notes other orbits may be considered anywhere in the 400 km to 1,400 km low Earth orbit (LEO) range.
The opportunity is open until March 31, and the ESA has posted a questionnaire for participants here.
Vega is the baby of the ESA rocket fleet. While it can carry 2500kg payloads, it is more commonly used to reach low-ish orbits suitable for Earth observation missions. The ESA is working on a new version of the rocket that will be able to carry an extra 300kg, thanks to the use of technology being developed for it and the forthcoming Ariane 6 heavy launch vehicle. ®
Sponsored: Minds Mastering Machines - Call for papers now open