Oh my god, it's nearly Monday. Here's some storage news bytes to brighten your weekend
Too enthusiastic? Too enthusiastic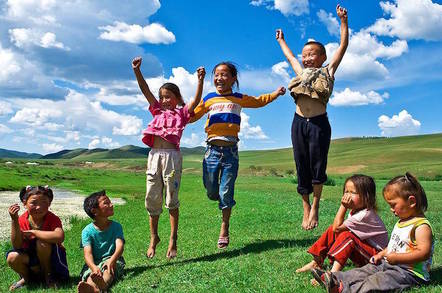 Sunday storage sum-up It's been one of those overwhelming-tidal-waves-of-news weeks. Here's an attempt to catch up.
Amazon Web Services has added a new Elastic Block Store feature it calls Elastic Volumes and is making it available for all current-generation EBS volumes attached to current-generation EC2 instances. AWS says you can increase volume size, adjust performance, or change the volume type while the volume is in use. You can continue to use your application while the change takes effect. Find out more here.

Zurich, Switzerland-based Argo Technologie SA has launched a range of redundant array of independent nodes (RAIN) appliances using its Ethernet Storage Fabric to deliver scale-out storage solutions aimed at petascale environments.

There is the Perseus, NAS appliance based on ZFS and an Argus Scale-out Ethernet Block Storage Shelf. The Argo Ethernet Storage Fabric (AESF) at the heart of each appliance was originally based on ATA over Ethernet protocol – Hey! Remember Coraid? – and has been enhanced with very low latency. The Argo Technologie executive team includes developers and managers that have previously held senior roles at EqualLogic, Rackable Systems and Coraid.

Commvault has announced a healthcare partnership with CloudWave, Harmony Healthcare IT and TeraRecon, and a new IDC white paper on how healthcare organizations can use data management.

With a new release of its cloud file system, Ctera has provided zero-minute disaster recovery for remote office file servers. IT admins can set Ctera gateways for continuous cloud synching of file system structures and permissions, and at any given time seamlessly redirect users to secure direct-to-cloud access. Ctera claims customers can stop managing redundant storage devices and realize cost savings of up to 80 per cent.

In 2016 the company saw record bookings and doubled its subscription sales versus 2015, reaching 35,000 business customers and over 40,000 cloud storage gateways sold.

DDN is the top storage provider among HPC sites surveyed by Intersect360, with the largest share (14.8 per cent) of installed systems at HPC sites. Its closest competitors follow at 12.7 and 11.0 per cent, and all other suppliers had less than 10 per cent share of reported storage systems.

Fujitsu's PrimeFlex line-up of Integrated Systems adds native integration of SUSE OpenStack Cloud, with a choice of pre-tested configurations for a range of deployment types.

GoodData announced its cloud data lake grew by 280 per cent as a result of increased adoption and demand from its global customers. It says this has been helped by it having moved away from dashboards with automated predictive technologies and machine learning capabilities at scale. It will hire more data scientists and architects in 2017 to build out its platform with more features and functionality.

EMEA distie Hammer and Spectra Logic have entered into an EMEA-wide distribution agreement, with Hammer adding Spectra's workflow, tape and disk-based products to its portfolio.

In-memory data grid supplier Hazelcast has updated its IMDG to v3.8, saying it's the fastest open-source in-memory data grid. It's reduced (dramatically, it says) the number of times the cluster must be shut down for maintenance.

HPE and Red Hat have a partnership to enable HPE to offer communications service providers ready-to-use, pre-integrated HPE NFV (network functions virtualization) system offerings and HPE Validated Configurations incorporating Red Hat OpenStack Platform and Ceph Storage.

NGD Systems introduced its Catalina SSD with capacities up to 24TB (which is huge) from using 3D TLC NAND, and a PCIe NVMe connector, saying it's shipping immediately. It claims it is the industry's highest-capacity PCIe NVMe SSD and is optimized for read-intensive applications, making it good for use in content delivery networks (CDN), just a bunch of flash drives (JBOFs), and media severs.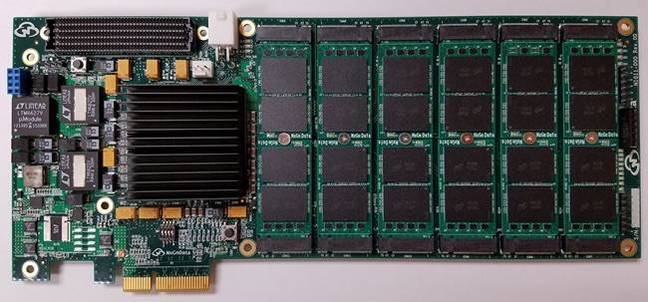 NGD Catalina
The OpenStack community released Ocata, the 15th version of its open-source infrastructure software. The Ocata release cycle was a one-time, shorter cycle focused on stabilization, including scalability and performance of the core compute and networking services. Ocata has greater support for container-based application frameworks at the networking layer, as well as containerization of OpenStack services for easier deployment and upgrade management, treating OpenStack as a microservice application.

OSNexus' QuantaStor v4.2 has a new Network Share Namespaces feature that allows NFSv4 and CIFS clients to see all shares accessible in a configure namespace on QuantaStor appliances and Network Shares added to that namespace. It's also added new qs CLI commands to allow for management of Cloud Provider Locations, Cloud Providers, and Cloud Provider Credentials. OSNexus has a Capacity-as-a-Service (CaaS) license for SDS so customers can manage and provision their storage license capacities online through a QuantaStor Cloud License Service portal.

Cloud storage gateway supplier Panzura has a new Freedom Partner Program, to help its partner providers assist customers by starting them out with Freedom Archive and easily upgrading those customers to advanced hybrid cloud storage functionality later using Freedom NAS or Freedom Collaboration.

Proscia has, through its cloud software platform,  demonstrated the ability to use mathematical oncology and deep-learning to determine the likelihood of lymph node metastasis in breast cancer. It has a partnership with Samsung Medical Center after SMC researchers found out about this. This partnership will provide predictive insight into the likelihood of lung cancer lymph node metastasis, improving physicians' ability to prescribe targeted cancer therapies.

In the Actifio/Delphix market area Cambridge, UK-based Redgate Softwarereleased its database provisioning tool, SQL Clone, which allows copies of SQL Server databases and backups to be created in seconds, using only around 40MB of disk space per instance. Generally it can take hours to duplicate a large database. Also multiple copies of databases or backups have to be stored somewhere and with the average database now often 1TB or more in size, there are capacity concerns.

SQL Clone sidesteps the time and size problems by creating a single data image of a live SQL Server database or backup. This is then used as the source data for clones, which can be provisioned in seconds and, even for a 1TB database, are only around 40MB in size. Such clones work just like normal databases and can be connected to and edited using any program, so developers often don't even notice the difference. They can work locally on up-to-date, isolated copies of the database to speed up development, testing, and fixing issues.

Synology announced DiskStation Manager (DSM) v6.1, saying it delivers better IT efficiency with extended coverage of the Btrfs file system, Active Directory Server, enhances performance with instant SMB server-side copy, ensures reliability with file self-healing, provides stability and security enhancements, and more. For example, it has brought Seagate's IronWolf Health Management tool to its NAS products.

Thecus has a deal with Origin Storage for it to exclusively manage Thecus' reseller channels in the UK and Ireland.

Veritas and Microsoft have signed a multi-year global, strategic partnership to help organizations use Microsoft Azure in hybrid cloud environments and to host Veritas' Enterprise Vault.cloud management and governance service on Azure. The pair will collaborate to enable and jointly sell hybrid cloud storage offerings to mutual customers. As part of this NetBackup 8.0, Veritas's flagship data protection product, supports storage tiering to Azure.

Furthermore, Veritas has selected Azure as the cloud backend on which to run its Enterprise Vault.cloud service, which provides policy-based information retention for eDiscovery and helps Office 365 subscribers find archived information when they need it.

Waterline Data, which works in the data lifecycle area, announced Smart Data Catalog v4.0. Waterline says it replaces manual tagging of metadata with an automated process that rapidly classifies and organizes all of an organization's data assets and lineage, making data readily available for (1) self-service analytics, (2) data governance and access control for regulatory compliance, and (3) data rationalization for better storage and cost efficiency.

New capabilities include support for directly fingerprinting and cataloging data located in Teradata, Oracle, MySQL, and other relational databases, expanding beyond prior version support for Hadoop-only data sources. There is also support for Data Lakes operating in Amazon AWS.
That's quite enough. Enjoy the rest of your weekend! ®
Sponsored: Minds Mastering Machines - Call for papers now open