Alleged $17.5m fraudster accused of duping HPE out of 42,000 servers
Peter Sage was playing the old grey reseller game, claims US tech monster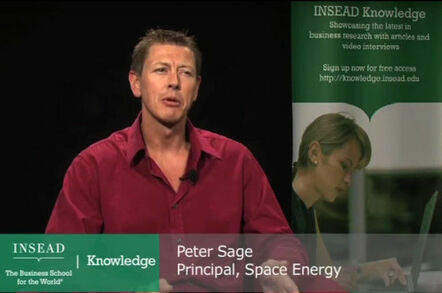 Peter Sage, the imprisoned "serial entrepreneur" and one-time principal of the company Space Energy, is said to have defrauded Hewlett Packard Enterprise out of tens of thousands of servers in a scam that unfolded over three years.
Court documents obtained by The Register reveal that HPE sold Sage's Space Energy venture a total of 42,611 "units of storage and server networking products" worth $17.5m between 2010 and 2013.
Space Energy is said to have presented itself to HPE and resellers in Iraq, Pakistan and South Africa as a solar panel company with government-level contracts in Iraq and Afghanistan – and an end-user of vast quantities of servers and racks.
HPE alleges that Space Energy was in effect a sham company formed for, among other purposes, buying servers through "Big Deal" discounts (better known to Reg channel readers as the special bid process) and then exporting them.
In his defence lodged with the High Court in London, UK, Sage "hugely refuted" HPE's allegations "that Space Energy was set up as a scam," adding: "The activities and day-to-day affairs of the business clearly confirm the legitimacy of the business."
The reseller distribution model
HPE gave a brief overview of its model in its court filings. The relevant parts were that:
Exporting goods outside of the reseller's authorised territory was forbidden
Resellers must not knowingly sell to customers planning to export HPE products
The reseller was responsible for ensuring customers reselling HPE gear only did so within the reseller's authorised territory
Resellers could, with HPE's permission, offer special discounts to particular customers
The last point forms a key part of HPE's case against Sage and Space Energy. Recipients of so-called Big Deal discounts, as they were called in the court filings, were prohibited from reselling any discounted items they bought – and had to give an undertaking that they were the final end user.
Sage claimed in his defence that he was "not aware of any special pricing deals with the Claimants and the Reseller" and labelled HPE's case "highly speculative". He will tell the court: "This exercise is a 'cost-sourcing' exercise, whereby the Claimant is manipulating its monopoly powers to force small business entities to 'pay up' or settle Claims early so it may legitimise to its shareholders for the lack of 'control' the Claimants currently have over such deals and Agreements."
Sage's co-defendant, Walter Jason Farfan of Chesham Road, Wigginton, Tring – who used the false name Jason Gooding throughout Space Energy's existence – agreed on behalf of Space Energy not to resell any of the servers it was buying, HPE claimed in the court docs.
Farfan was briefly mentioned in Mr Justice Jay's January judgement committing Sage to prison for contempt of court as being "out of the jurisdiction and apparently evasive".
Qais Al Khawaja, a Dubai-based HPE salesman, agreed the initial sales to Space Energy in 2010 on the basis of a solar farm "test site" that Farfan claimed Space Energy had set up in Iraq. Two years later, Sage and Farfan, along with "Dodgy Col" Smith, an employee of Space Energy, had a further meeting with HPE "to verify that Space Energy's business was legitimate".
Regular readers will recall that Dodgy Col, now known as Clifford Harper and serving a 33-month prison sentence for fraud, was involved in the curious tale of the £23,000 engagement ring Sage gave to his fiancée Thea Thorpe. The disappearance of the ring during the search of his home by HPE's lawyers was instrumental in Sage being imprisoned for 18 months for contempt of court.
HPE's lawyers, City firm Mishcon de Reya, summarised their case against Sage and Space Energy as follows:
From in or around December 2010, the Defendants entered into a common design to deceive the Claimants into selling HPE Products to Space Energy FZE at heavily discounted prices by way of the Big Deal Scheme, in order for those Products to be resold at substantial profit by either (i) parallel importing into the EEA for re-sale; and/or (ii) importing into non-EEA countries (in particular the USA) for re-sale.
Among the companies Space Energy resold servers to were, according to HPE, two now-shuttered British brokers, Reform Technologies and K2IT Ltd.
The court documents alleged that K2 bought more than 17,000 of the racks and servers in 11 of the 22 disputed bulk orders placed by Space Energy. HPE alleges that Reform acted as a broker between Space Energy and K2, as well as another broker in Pakistan, thereby enabling the bulk discounted servers to enter the UK and Pakistani markets in breach of HPE's reseller agreements.
One transaction in particular highlighted by HPE involved K2 paying $799,960 to Reform on 24 October 2011. On the same day, Reform paid Space Energy $800,000 exactly. Sage said that Space Energy made "a margin of $30k or 3.9 per cent" on this transaction, adding that this therefore disproved HPE's claim that Space Energy was making substantial profits from the reselling.
The changing faces of Space Energy
Space Energy, during its four-year existence, operated through a variety of corporate entities. The court papers identify:
Space Energy FZE, a Dubai company
Space Energy Terrestrial Inc and Space Energy Inc, in the US
Space Solar Technologies Ltd, in the UK
Space Energy AG and Space Energy Trading AG, both Swiss companies
A note issued by the Swedish Financial Supervisory Authority in 2011 warned Swedish investors against dealing with Space Energy, saying the company was not authorised by that country's financial regulators: "Space Energy AG's representatives contact investors in Sweden through unsolicited telephone calls."
A US Securities and Exchange Commission filing revealed that in 2011 Space Energy AG applied for clearance to sell up to $13m of exempt securities.
Investors not happy
Investors in Space Energy who have spoken to The Register individually attested to hundreds of thousands of dollars being poured into the company by people who had been told by Sage that it was a genuine business venture.
These people included wealthy investors with money to spare and retail investors, some of whom plunged their entire life savings into Space Energy following Sage's assurances.
None of the investors who spoke to The Register received their money back when Space Energy collapsed in around 2014.
A video of Sage talking about Space Energy in 2012 can still be seen on YouTube.
In my defence, m'lud...
In the court papers, Sage repeatedly said he was not aware of any agreements between HPE and its resellers.
The central plank of his defence is that HPE's terms bind its resellers only and that once Space Energy had received the racks and servers, the company had legal title to them and could therefore do as it pleased.
He stated that Space Energy's purported Iraq venture failed because of "various logistics" which he did not elaborate on. He also asserts that Space Energy's Namibian and Indian projects were legitimate, while saying HPE only has evidence of "50 per cent" of the 42,000 servers and racks he is said to have bought through Space Energy.
Sage also said:
It would make commercial sense for most companies to order products in anticipation of projects being completed at a discount. If then without prediction those products are no longer required the Defendants were not bound by any terms that would not enable them to later sell excess product. In the fashion industry this is known as cabbaging.
HPE has a long history of aggressively pursuing grey market resellers and brokers. UK firm DP Data Systems was closed down last year after HPE went after them on trademark infringement grounds, while a decade ago similar stories were doing the rounds.
Sage is currently incarcerated in HM Prison Pentonville, serving his 18-month committal for contempt of court. It is understood that he has applied to be transferred to a Category D prison and that he is likely to be released after serving another eight months.
His website, petersage.com, has been updated since he was committed to prison on 20 January this year, but makes no reference to his incarceration. At the time of writing it still stated that he was featured by business entrepreneur spotlight website London Real, despite that organisation publicly severing its ties with Sage and deleting its numerous videos with him once the news of his imprisonment was broken by The Register.
A court order dated 7 February postponed the scheduled March hearing, with a case management conference due to take place on 3 April to decide when the next hearing will be. ®