LOST IN SPAAAAAACE! SpaceX aborts Space Station podule berthing
Navigational computer blunder halts cargo capsule hook-up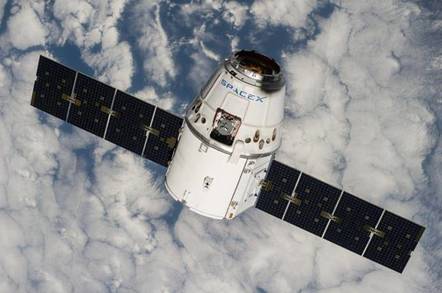 SpaceX today called off an attempt to berth its Dragon cargo capsule with the International Space Station after the, er, podule got a bit lost. It's fine, though: they'll try again on Thursday.
The capsule, which was successfully launched into space on Sunday, was due to hook up with the orbiting science lab on Wednesday morning. As ever, the capsule got nearly within grabbing distance of the station's robotic arm for capture and berthing, but this time the guidance computers said "no."
"Dragon's onboard computers triggered the abort after recognizing an incorrect value in navigational data about the location of Dragon relative to the space station," NASA said in a statement today.
"Flight controllers immediately began planning for a second rendezvous attempt on Thursday, Feb 23. The spacecraft is in excellent shape with no issues, and the crew aboard the space station is safe."
As a pilot it is sometimes better to accelerate and circle around than attempt a difficult landing. Same in space - we'll be ready tomorrow! https://t.co/IdI5UakuVx

— Thomas Pesquet (@Thom_astro) February 22, 2017
The capsule is now standing off around a quarter of a mile from the ISS ready for its second attempt. In the meantime, SpaceX has said the supply ship is "in good health."
However, things might get a bit crowded if the Dragon capsule is forced to abort again. On Wednesday, the Russian space agency successfully launched another ISS resupply mission to the space station atop a Soyuz rocket that's due to hook up on Friday. ®