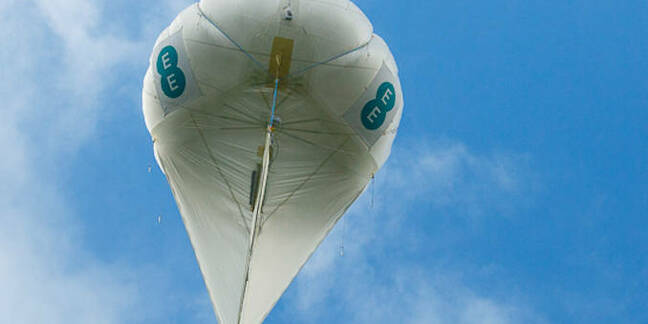 EE has revealed plans to launch balloon and drone "air masts" to connect remote parts of the UK in the wake of disasters such as major flooding, in its yet-to-be-patented technology unveiled today.
For those who can't bear to enjoy the solitude of nature without being able to instantly post to Facebook, chief exec of EE Marc Allera said customers could request to have a drone hovering over their heads in remote areas. The mini sites, including a basestation and antenna, can provide an "on demand coverage" service, he said.
"We are obsessed about having customers connected all the time."
At an event at London's Oval cricket ground, EE showcased its "Helikite 'mini mobile sites" attached to a helium balloon to provide coverage where permanent sites have been damaged or in areas where there is no 4G coverage.
The company also unveiled 32 rapid response vehicles to provide 4G back-up connectivity under the Emergency Services Network contract.
The vehicles will be equipped with a 3.35m (11 foot) mast and will provide bandwidth at 800MHZ and 1800MHZ within three hours to areas which do not have a coverage overlap with other 4G sites.
The vehicles will be able to provide a coverage range of up to 10km, depending on the location.
Nigel Brown, lead for resilient ICT strategies at the Cabinet Office, described the technology as "hugely impressive". He said: "[4G technology] will do to the emergency services what it has done to the rest of society, which has been awesom."
The 4G ESN network is due to go live at the end of 2019, and will replace the £2.9bn Airwave contract which is due to be switched off by 2020. However, MPs have warned that the life-critical network needs more testing and is likely to face delays.
Asked whether EE would meet its coverage target, Allera said the company was positive. He said: "We are on track and very confident about our part in the contract" adding that the contentious issue of getting coverage on the London Underground would also be met.
Vodafone has raised concerns that EE will be in a dominant position once the ESN contract is re-competed. It has also complained that EE has not provided detailed information on where the majority of its new masts in rural areas will be located.
But Allera said the company was doing "everything we need to under the terms of the contract to give operators access". ®
Sponsored: Practical tips for Office 365 tenant-to-tenant migration