Dell EMC plans to use VxRail for mutant cloud cargo
Hyper-converged nodes get turnkey hybrid cloud software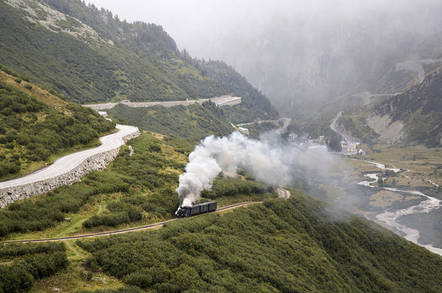 Dell EMC says smaller enterprises are rushing to combine their on-premises IT with the public cloud and is offering a turnkey scale-out hyper-converged VxRail appliance so they can do just that.
The cloud hybridity comes from its Enterprise Hybrid Cloud offering, EHC, which was first introduced in October 2014 as EMC's Federation SDDC Edition, which integrated hardware, software and services from EMC and VMware to provide a hybrid private/public cloud.
There were custom-engineered design templates offering pre-determined infrastructure service levels for different applications. The hardware was a VBlock box or partner-built VSPEX-defined box, with ViPR controller, and came in three sizes supporting 500, 5,000 and 10,000 virtual machines (VMs).
EHC v4 was introduced in August 2016. It offered expanded multi-site support, better data protection and virtual machine encryption. There was also a separate Native Hybrid Cloud offering, a turnkey Pivotal Cloud Foundry platform, built on hyper-converged VxRail 200 and 200F appliances.
But if you look on the Pivotal website, you won't find it. There is sales collateral on EMC's website (PDF) which confirms it "Integrates Pivotal Cloud Foundry, VMWare technologies and hyperconverged VxRail platform," and says:
Based on best-in-class Platform-as-a-Service and Infrastructure-as-a-Service technologies, Native Hybrid Cloud combines self-service cloud-native application development with data analytics into a single hybrid cloud platform, eliminating the months it takes to build your own.
Now Dell EMC is announcing its mainstream EHC offering has been "expanded to include Dell EMC VxRail hyper-converged infrastructure [and] offers a turnkey hybrid cloud optimized for smaller enterprise deployments."
In effect, the separate Native Hybrid Cloud offering and EHC now allow users to start (VxRail) small and grow (Vblock) large if they wish.
The VxRail appliances use VMware's VSAN and provide an on-premises virtualized and scale out hyper-converged platform on which to run applications. The hardware is built from Dell servers, storage and networking. The Native Hybrid Cloud experience was good enough to convince Dell that VxRail could be used for hybrid deployments, bringing in the public cloud access - Amazon Web Services, Azure, Google Cloud Engine and others - with EHC.
Chad Sakac, president of Dell EMC's Converged Platforms and Solutions Division has a quote about this: "It's clear that enterprises are moving to hybrid cloud models, and they're looking for us to help simplify standing-up and managing these environments, which inevitably includes multiple cloud stacks, cross-cloud technologies and a combination of various off-premises and on-premises clouds."
He adds: "Hyper-converged infrastructure has quickly proven effective for core data centre workloads and is becoming the answer for the on-premises part of hybrid cloud. Adding Dell EMC VxRail Appliances as an infrastructure option for ... Enterprise Hybrid Cloud helps us simplify hybrid cloud for smaller enterprises and a broader set of customers."
EHC on VxRail Appliances provides a turnkey hybrid cloud supporting from 200 to 1000 virtual machines – EHC previously started at 500 VMs. Installation is automated, and there is subscription-based support with professional services. It's all about simplifying and making it easier for smaller enterprises to bring the public cloud into their IT environments, and use scale-out hyper-converged appliances to do so.
VxRail progress
Dell EMC says more than 8,000 VxRail nodes have been sold to more than 1,000 customers in 78 countries in the first year of availability. That means 65-plus petabytes of storage and 100,000 cores.
It quotes IDC numbers to show that 28 per cent of hyper-converged systems sold in the third quarter of 2016 was accounted for by VxRail Appliances, VxRack Systems and XC Series (OEM'd Nutanix) from Dell Technologies,
Dell claims it is on track to be the industry's top HCI appliance provider, overtaking current leader Nutanix, even though it sells Nutanix-based XC boxes.
Dell EMC Enterprise Hybrid Cloud with VxRail Appliances has planned general availability for the end of March. ®