UK credit broker fined £120k for spamming folk with five million texts
Consent wording not enough to prevent a spanking by the ICO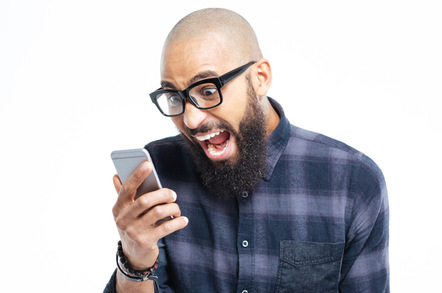 Updated A UK credit broker has been fined £120,000 for sending more than five million unlawful text messages.
Digitonomy besieged customers with unsolicited loan offers, prompting 1,464 complaints from privacy-conscious consumers between April 2015 and February 2016. An investigation by data privacy watchdogs at the Information Commissioner's Office (ICO) prompted by these complaints concluded that Digitonomy sent the messages without obtaining proper consent from recipients.
The Chester-based business used affiliate marketing companies to send out more than five million messages offering cash loans as part of a marketing campaign. Digitonomy provided examples of the consent wording from the affiliate companies but the ICO ruled that the consent obtained was not sufficient to keep the aggressive marketing campaign within UK electronic marketing law.
Steve Eckersley, ICO head of enforcement, explained: "Businesses that rely on direct marketing must be able to confirm that people have given their permission to receive text messages and to comply with the law they must have the evidence to prove it.
"Depending on the word of another company is simply not acceptable and is not an excuse. Digitonomy is paying a hefty price for not meeting its responsibilities. We say it over again – any business that has instigated a marketing campaign is responsible for the information involved. Businesses need to get it right or we will take action." ®
Updated at 8.05am, 16 February, to add: A spokesperson for Digitonomy has been in touch, offering a statement defending its position.
"We are sorry that a reported 0.03 per cent of recipients found the SMS marketing messages from our appointed affiliate management company last year unwelcome, despite us having conducted appropriate due diligence before they proceeded with their marketing. We remain determined to operate at all times within both the spirit and the letter of the law and best practice."
Sponsored: Minds Mastering Machines - Call for papers now open