Soaring sales, healthy fat profits... Simply not good enough, Nvidia
Best quarter yet, says CEO, while share price slips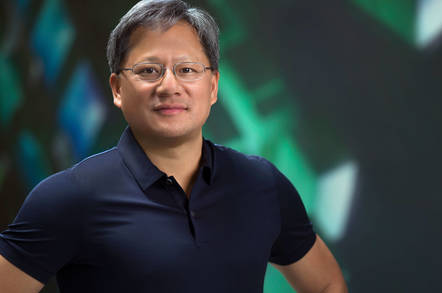 Nvidia continues to ride the AI hype wave, raking in $2.17bn in sales in three months – its best quarterly results yet, apparently.
Jen-Hsun Huang, CEO and cofounder of the graphics chips biz, told investors and analysts on a conference call on Thursday "we're at the beginning of an AI computing revolution." Well, at least he's honest about engineers still being at the beginning: we're a long way away from strong AI despite all the machine-learning ballyhoo that's unavoidable these days.
"This is a new form of computing," Huang boasted, "where parallel data processing is vital to success and GPU computing – that we've been nurturing for the last decade and [then] some – is really the perfect computing approach."
For the GPU giant's full fiscal 2017 year, which ended on January 29:
Nvidia finished the 12 months with revenues of $6.91bn, up 38 per cent from the previous year.
Net income was $1.66bn, up 170 per cent from the year-ago period.
For the fourth quarter of fiscal 2017:
Revenues were $2.17bn, up 55 per cent on the year-ago quarter. That figure is $60m better than analysts expected.
Net income was $655m, up 216 per cent year-on-year.
Earnings per diluted share for the quarter were $0.99, an increase from $0.83 in the third quarter, and a boost of 183 per cent from $0.35 this time last year. That beat analyst expectations.
Nvidia is gradually shifting from a purely 3D GPU design company to a full-fat semiconductor biz offering not just gaming system powerhouses, but also accelerators for machine learning and supercomputer systems. Its technology powers a number of deep-learning frameworks, including Microsoft's CTNK and University of California, Berkeley's Caffe. Last year, Nv touted hardware specifically aimed at tackling artificial intelligence problems, the DGX-1, which is used by several AI research groups.
Nvidia sees self-driving cars as a growth area for its silicon designs, although sales in that market are plateauing at the moment because, well, autonomous vehicles have yet to break into the mainstream. To date, Nv has announced several partnerships with the auto industry, and its most ambitious project is to produce level-four self-driving vehicles with Audi in 2020. Level one is basic cruise control, level two is a better-cruise-control like Tesla's Autopilot, and so on, all the way up to level five, which is a car that has no steering wheel or pedals: the thing is completely computer-controlled.
Obviously, these upper levels are still years and years away. In the meantime, Nv's AI co-pilot, which includes a head and gaze tracking and voice recognition inside the car, is being doled out to Mercedes, Audi, Tesla and Toyota.
Although it has thrown a lot of resources at AI, a large chunk of Nvidia's cash still comes from chips sold into the hands of gamers. Meanwhile, its data center component sales continue to climb.


Nvidia's shares dipped by as much as three per cent at time of writing after the financial results were published on Thursday. The biz is expected to rake in $1.9bn, give or take 2 per cent, in revenue in the next quarter, and a $567m operating income. Although investors think those are doable figures – they were expecting $1.88bn – they were hoping Silicon Valley-based Nvidia would surprise them with more, which is why the stock price ultimately slipped. ®
Sponsored: Your Guide to Becoming Truly Data-Driven with Unrivalled Data Analytics Performance