Hortonworks brakes on breaking even, continues to burn cash
Er, we're going to break even next year, says CEO Bearden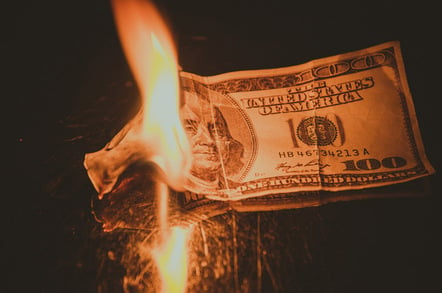 Updated Hortonworks has pulled up a few dollars short in its bid to stop burning cash by the end of this financial year.
The Santa Clara-based business has posted a record yearly revenue of $184.5m, $52m of which arrived in Q4, but also reported a net loss for the whole year of just over $251m, leaving it with cash and investments of just over $89m.
While CEO Rob Bearden told listeners during the company's earnings call that Hortonworks "achieved [its] goal of adjusted EBITDA break-even in the fourth quarter", the figures that the business filed with the US Securities and Exchange Commission in fact report an adjusted EBITDA loss of $98,000.
The failure to break even by Q4 was anticipated, and had previously been pushed back to mid-2017, with operating cash flow break-even targeted for "sometime between Q3 and Q4" of 2017 too.
Asked by Abhey Lamba when analysts could expect Hortonworks to be consistently cash flow positive, but CFO Scott Davidson said he didn't want to talk beyond break-even yet. "Q3, Q4 seems a long way out," he added. ®
Updated to add: Hortonworks has gotten in touch since the publication of this article to insist that "when you take the foreign exchange into account, adjusted EBITDA is more like +$800,000".
Sponsored: Beyond the Data Frontier