Alleged HPE fraud man Peter Sage once ran dodgy pharma biz
Plus: Full details of the ex-stripper who controls his European enterprise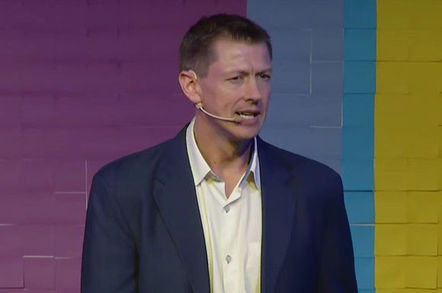 Peter Sage, the jailed motivational speaker accused by Hewlett Packard Enterprise of perpetrating a $17.5m fraud against them, once ran a company which claimed "'traditional' pharmaceuticals simply intoxicate your body".
Sage was imprisoned in January for 18 months after the High Court in London, UK, ruled he had committed numerous contempts of court.
This followed on from his home in England being searched by lawyers from City of London firm Mishcon de Reya, retained by HPE in relation to the fraud allegations, in late 2015. Those fraud allegations will be heard in full by the High Court in March.
HPE has not responded to our repeated enquiries about the ongoing court case it has against Sage, which relate to his Space Energy venture. The case has been brought as a civil (ie, non-criminal) matter between the two parties, although Sage was jailed after breaching a 2015 court order that forced him to hand over details of his businesses and their finances to HPE's lawyers.
Since Sage's imprisonment, a number of sources have come to The Register to discuss his previous business ventures.
The dodgy health products firm
One of Sage's previous ventures mentioned by sources was the World Wide Health Corporation, a UK Channel Islands-registered firm selling pharmaceutical products in the UK. The Register has obtained a copy of an Advertising Standards Authority ruling made against WWHC in November 2000.
Sage's firm had been peddling a "preventative health product" called MSM Health Guard with the claim: "We are so confident of this product that we offer a lifetime guarantee against acquiring any additional ailment (even a common cold!) or we will refund the cost of your supply", also saying that "'Traditional' pharmaceuticals simply intoxicate your body."
The ASA upheld five of the seven complaints made against WWHC by Cambridgeshire Trading Standards, Swansea Trading Standards and Wirral Trading Standards. The upheld complaints included: WWHC claiming that lab tests showed the positive effects of MSM, without evidence; misleading assertions that common medicines such as ibuprofen "intoxicate the body"; inaccurate claims about medical conditions; use of false product testimonials; and use of the words "cure completely" along with mentions of diabetes, Alzheimers' disease, arthritis and emphysema.
Two complaints were not upheld: MSM was revealed to be a natural sulphur compound released by plants and the industrial extraction method did not render the "natural product" claim untrue. In addition, a Dr Stanley Jacobs quoted in a promotional Q&A was found by the ASA to be a credible expert.
The male escort promotion agency
Sage was also a director of an advertising agency called Premier Male Escort Services Ltd, incorporated in 1995. A source told The Register that this business consisted of selling advertising space in magazines to men who wanted to promote themselves as male escorts.
Premier Male Escort Services Ltd was compulsorily wound up in 1998 for failure to pay VAT, according to an article in the Daily Mirror of Friday 25 February 2000. The newspaper carried out an investigation into Sage's then business partner Craig Gibson, with whom he was director of a number of companies including ad agency Lorraine Dior Ltd.
Sage was banned from being a UK company director for four years by Leicester County Court, between 1999 and 2003 according to the Mirror, as a result of the companies being wound up. Since then his name has not appeared again in the list of UK company directors held by Companies House.
The Register is unable to contact Peter Sage for comment because he is currently in prison. However, a video statement made by him immediately before he was jailed has been posted on his Facebook page. Anyone watching the full 11 minutes should compare and contrast Sage's claims with the original High Court judgement.
"I, on the other hand, because the freezing order was on legal aid, just had what representation I had," said Sage in the video.
Sage's fiancee's name has popped up in close connection with a number of firms through which Peter Sage trades.
Sponsored: How to get more from MicroStrategy by optimising your data stack