Hyperloop sueball noose-man launches tube-travel rival
Brogan BamBrogan is back! And this time he means BamBusiness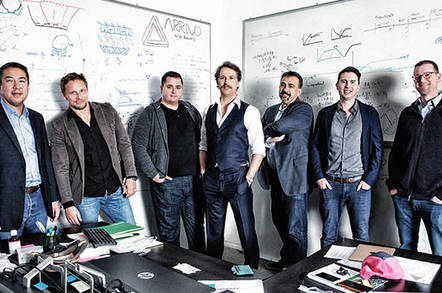 Three months after settling a lawsuit with former employer Hyperloop One, engineer Brogan BamBrogan (of the BamBrogans) has launched a rival to the tube-travelling transport company.
Called Arrivo, the company is currently made up of the three other former employees of Hyperloop One who tried and failed to effect a hostile takeover of the company last year, plus another two engineers – one of them from BamBrogan's other former employer, SpaceX.
Together they hope to take on Hyperloop One and sell people on the idea of zooming along in Buck Rodgers' style capsules rather than getting in a car or on a plane. "We're excited to have assembled such an amazing team of founders to take on this great challenge," said BamBrogan. "We believe deeply in this concept and are eager to bring our unique vision to the market."
BamBrogan claims to have funding already in place and plans to expand to 30 people within the next six months.
All of which is somewhat ironic on two levels.
First, in the middle of the legal fight with Hyperloop One, the company claimed that BamBrogan hadn't managed to achieve anything close to the technological improvements necessary to make the system work and had misled them over his role at SpaceX.
"BamBrogan built himself up as a major contributor at his previous employer when, in fact, he was a slightly below-average engineer who failed to disclose to the company that the last project he worked on for his previous employer had failed," one filing noted.
And second, BamBrogan denied that his plan was to set up a rival to Hyperloop when he tried and failed to coerce the company's management to give him a seat on the board. Presumably he first had the idea immediately after the case was settled.
Where does Aviato's – sorry, Arrivo's – technology stand? It's hard to say, but if the official announcement is anything to go by, not far. The company "believes deeply" in the "concept" and has a "unique vision." It is "on track to establish two test sites" and "expects to have revenue-generating projects operational within three years."
So if you are a go-getter engineer and want to work alongside someone who accused their former employee of leaving a hangman's noose on his chair (it was a lasso supposed to designate BamBrogan as a cowboy) and who, according to Hyperloop One, was "profane, erratic, sexist, and inebriated" at work, today's your lucky day. ®
Sponsored: Detecting cyber attacks as a small to medium business