Whomp. WD whacks down unstructured data-nomming 'Skyhawk' SSD
SFF SSD goes NVMe to blow SATA interface away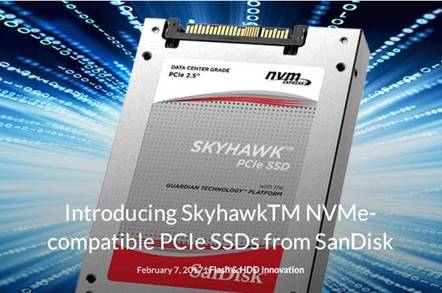 WD has introduced a Skyhawk SSD, an NVMe version, as it were, of its acquired SanDisk's SATA interface CloudSpeed SSD, along with its very own post-SanDisk and post-HGST Skyhawk branding.
Skyhawk is a low-to-medium, fast access SSD in a 2.5-inch enclosure using MLC (2bits/cell) NAND instead of the slower, less long-lasting TLC (3bits/cell) stuff and with an NVMe/PCIe interface and not the old disk-based SATA interface.
The Skyhawk SSDs use 15nm NAND with a PCIe Gen 3 controller. They have from 1.6TB to 3.84TB capacity and come in a hot-swap, U.2, 2.5-inch form factor enclosure, in two varieties; Standard for read-optimised workloads, and Ultra for mixed-use workloads which has longer endurance, gained through lowering its capacity so as to have spare cells to use when existing ones wear out.
WD says that Skyhawk offers:
Nearly 3X the sequential performance compared to comparable enterprise SATA SSDs,
Lower 12W power envelope enables broader deployment compared to 25W PCIe SSDs,
Compliant with industry standard NVMe 1.2 protocol with in-box drivers for all major OSes,
Available in two write endurance swim lanes (Standard and Ultra),
Increased performance provides improved server consolidation.
WD's acquired HGST and SanDisk had their own SSD branding, such as FlashMax and Ultrastar SN100 for HGST, and Lightning, CloudSpeed and IoScale for SanDisk. We're seeing the second WD SSD brand type here, colour-based Black, Blue and Green having been introduced already; Black for example at CES in January.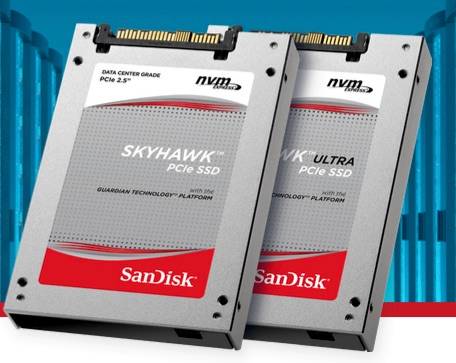 Think of SkyHawk as a SanDisk CloudSpeed SATA SSD re-implemented. For example, the August 2015-announced CloudSpeed Ultra Gen II SSD used 15nm MLC NAND, like SkyHawk, in its 2.5-inch enclosure, with 400GB, 800GB and 1.6TB capacities, and had this (up to) performance:
76,000 random read IOPS,
32,000 random write IOPS,
530MB/sec sequential read,
460MB/sec sequential write,
80μs, 56μs average r/w latency,
1.8 DWPD (Drive Writes per Day) for 5 years.
Skyhawk is better in some ways (speed) but not in others (latency, endurance). In Standard form it has 1.92TB and 3.84TB capacity points, and its (up to) performance profile is:
250,000 random read IOPS,
47,000 random write IOPS,
1.5GB/sec sequential read,
1.17GB/sec sequential write,
At 1.92TB/3.84TB capacity levels read latency is 127/128μs, write: 1,331/718μs,
0.5/0.6 DWPD with 5-year warranty.
In Ultra form it has 1.96TB and 3.2TB capacity points, and its (up to) performance profile is:
250,000 random read IOPS,
83,000 random write IOPS,
1.7GB/sec sequential read,
1.2GB/sec sequential write,
At 1.6TB/3.2TB capacity levels read latency is 126/125μs, write: 693/351μs,
1.2/1.7 DWPD with 5-year warranty.
That's useful increases in random IOPS and sequential bandwidth. But it's curious that the NVMe/PCIe interface here has a longer latency than the old SATA one.
WD marketeers burble in the press release that Skyhawk brings "enterprise-class reliability, outstanding endurance and exceptional performance to data centres for data analytics processing (OLAP), databases, financial and e-commerce systems, cloud virtualisation, media streaming, video on demand, and more."
We suspect other powerful, predatory bird, mammal and fish names may be used for oncoming WD SSDs targeting other market niches.
Skyhawk has a 2 million hours MTBF rating, instant secure erase and an 0.44 per cent annualised failure rate.
Get a datasheet here and read a blog here.
The Skyhawk SSD is currently sampling to select OEMs, with general availability set for Q2 of this calendar year. We have no pricing data. ®
Sponsored: Beyond the Data Frontier