Virtual monopoly on UK cell towers and TV masts up for sale
£5bn for Arqiva: Anyone? Bueller?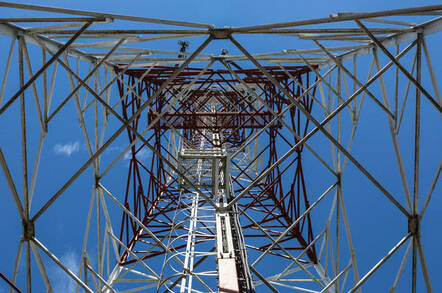 Analysis UK cellular tower and TV mast radio specialist Arqiva has been put up for sale with an optimistic price of between £5bn and £6bn, but its two core areas of business both have questionmarks hovering over them.
Any mobile tower company taking a long hard look at 5G has to decide if it can get heavily into a new class of platform for small cells – notably cutting deals with smaller street furniture such as street lighting, rather than building brand new towers. It's not so much that the existing macro cell towers are going away, just that will not grow.
Arqiva, so much a dominant force in the UK, that it might be considered a monopoly, has the additional problem of owning all the digital terrestrial TV masts in the UK, just as long term doubts have emerged over linear TV.
In fact, in a prior report, Faultline Online Reporter forecast that 50 per cent of Linear TV delivery would be over OTT by 2018 – a landmark we are ahead of schedule for, with more and more TV stations resorting to OTT delivery rather than spending the £10 million a year that Arqiva asks for an annual broadcast channel fee.
Arqiva owners are two conservative investors, who opt for businesses with guaranteed high returns at low risks - the Australian investment bank Macquarie and the Canada Pension Plan Investment Board – and they have decided to throw in the towel now, and have put the business on the market.
Macquarie bought the broadcast business of what is today Virgin Media in 2004, paying £1.27bn; in 2005 it acquired BBC Broadcast for £166m and then in 2007 bought Crown Castle's tower and broadcast properties as National Grid Wireless for £2.5bn, which ran the biggest wireless network and ended up managing all six DVB-T digital TV multiplexes. It later shared the load with the Canada Pension Plan Investment Board.
So, in all, it paid just under £4bn, and arguably, it has grown as digital TV added multiplexes – it only inherited two and bid and built the others – and has shrunk, in that the advertising on those multiplexes are about to slide into oblivion as programmatic advertising turns OTT video into a goldmine – outshining broadcast TV – although it went up during 2016.
The truth is that the weakened British Pound gives those who show their investments in Australian or Canadian dollars an asset on their books which appears to be declining rapidly now rather than over the coming years, due to currency fluctuation – so there is a feeling that they wish to get out with the value intact before the British Pound goes down even further.
Expect more deals like this, all over Europe, but not so much due to currency, more to the fundamentals of technology change, so not for a few years yet. TDF in particular, in France could become vulnerable. And expect this asset to be acquired by a UK based business, which reports in British pounds, or a Chinese one, who tend to love long term infrastructure investments right now.
Private Equity would usually pile in, but we're not sure given the pound situation right now. Arqiva has around £3bn in debt which will have to be factored in - and it is this which prevented the more logical UK IPO.
Copyright © 2016, Faultline
Faultline is published by Rethink Research, a London-based publishing and consulting firm. This weekly newsletter is an assessment of the impact of the week's events in the world of digital media. Faultline is where media meets technology. Subscription details here.