Elon Musk joins anti-Trump legal brief
Hearing to take place in San Francisco Tuesday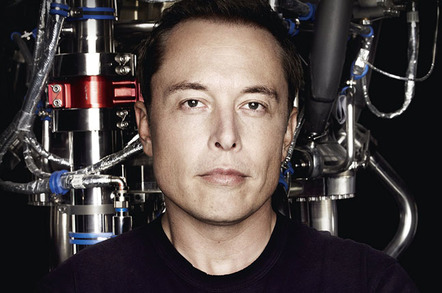 Updated Entrepreneur Elon Musk has joined the Big Tech battle against Donald Trump's immigration ban by signing up his companies to the amicus brief filed against it.
On Monday, 97 tech companies including Apple, Microsoft, Google and Facebook filed in a San Francisco court against the ban, calling the crackdown illegal and arguing that it would damage their businesses. The amicus brief supports a lawsuit brought by the state of Washington against the president's order.
The list was so long that many noted Jeff Bezos' Amazon and Elon Musk's SpaceX and Tesla were not there. According to an Amazon spokesperson, the internet giant was asked by Washington's attorney general to not include itself on the brief: the Seattle-based biz is already a witness in the state's lawsuit.
Elon Musk, however, is a member of Trump's Strategic & Policy Forum and his companies' absence drew criticism that he was aligning himself with the president. Musk has previously suggested that people send him proposed changes to the immigration ban and he would personally take them up with Trump.
Last week, fury against the ban led Uber CEO Travis Kalanick to announce he would resign from the same policy group over Trump's actions.
In a filing on Monday, over 20 more tech companies put their names to the brief – including Musk's companies, highlighting the extent to which Silicon Valley is opposed to the order.
Others that have signed up include Adobe, HP, Evernote, IAC, Pandora and Slack. However IBM, Oracle and Palantir are still notable by their absence.
Watch live
As for the legal process on the ban itself: on Monday the Ninth Court of Appeals in San Francisco set a hearing scheduled for 3pm Pacific Time (11pm UTC) on Tuesday.
Due to the extraordinary interest in the hearing, the court has decided to audio livestream the event. Three randomly selected federal judges will hear arguments from lawyers from two states opposed to the ban (Washington and Minnesota) and the Department of Justice, which argues it is necessary for national security. Each side will be given 30 minutes and then the court is expected to decide shortly after.
If the court decides to remove the temporary injunction against Trump's ban, the shutters will again come down for people from one of seven Muslim-majority countries, as well as people with joint citizenship from those countries.
If the court decides to maintain the injunction, it will almost certainly move to the Supreme Court where a critical precedent about the extent of the president's power will be made within months. ®
Editor's note: This story was updated to include an explanation for Amazon's absence on the amicus brief of tech companies against Trump's order.
Sponsored: Webcast: Why you need managed detection and response