Sage Business School founder imprisoned – but you wouldn't know it
Associates of man accused by HPE of $17.5m fraud carefully whitewash over his jailing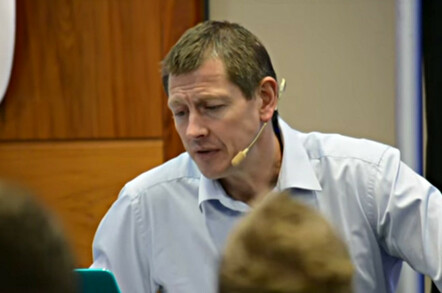 Contractors working for jailed motivational speaker Peter Sage, who is accused by Hewlett Packard Enterprise of masterminding a $17.5m fraud against them, had to read The Register to figure out what had happened to their boss.
In a conference live-streamed to a Facebook group last Thursday – the video of which was deleted over the weekend, but not before El Reg transcribed its key parts – Samuel Cook and Fayez Jangda addressed customers on behalf of Peter Sage, a self-styled "serial entrepreneur".
Motivational speaker Sage was imprisoned by the High Court in London, UK, in January after committing several deliberate contempts of court.
He ignored a court order freezing his assets, hastily moving more than £100,000 offshore when lawyers appointed by HPE carried out a dawn raid on his Leicester home. He also failed to reveal that he controlled a number of bank accounts he used for business purposes, and his fiancee Thea Thorpe was found to have helped Sage hide a £23,000 diamond and sapphire engagement ring which should have been seized by HPE's lawyers.
HPE alleges that Peter Sage, who hosts talks and conferences about success in business, defrauded them out of $17.5m. Sage was a director of a company called Space Energy, through which HPE alleges he obtained "substantial 'Big Deal' discounts" from them which he was not entitled to. The full case is still ongoing.
Speaking to a Facebook audience on 2 February that was largely made up of Peter Sage's customers, Cook said: "We don't have any clear picture, not being anywhere inside the director leadership, we need to inform the community … we're not going to take any bookings or reservations right now."
Jangda, also present on the live conference, added: "I just posted one of the articles [about Peter Sage being jailed for contempt of court], it's one sided, by, it's from The Register."
Peter Sage had also released a Facebook video, prior to being jailed, in which he gave his version of the events leading up to the court proceedings brought against him by HPE. As those proceedings are currently active The Register will not be linking to that video. In it, however, Sage said "because I'm technically in breach of a high court freezing order, the penalty for that is I could take a holiday."
Cook stated on the Facebook livestream that he had been working with Sage's organisation for "eight or nine months" with them as his main client, while Jangda became involved with Sage in October last year. Neither appeared to have been aware that Sage was the defendant in High Court legal proceedings which had been ongoing for more than a year when they became involved with his business.
"From my standpoint right now, what I've seen from Peter is he's been good to my team, my agency, he's always treated us well and taken a personal interest in every member of the team," Cook said on the livestream, as he pledged to run a free seminar for Sage's former customers left in the lurch by his committal to prison: "I'm going to be damned sure you guys get value even if I have to figure it out myself... And for free."
He added: "We're not sure about the SBS in November. We're not selling it, that wouldn't be responsible."
Where's our refunds?
Some of the people watching the stream had asked about refunds for courses they had paid for, including one scheduled for March – the same month as the full High Court hearing into the case brought by HPE will be heard.
"A ticket was booked from South Africa for the March event which will have to be moved to November, but based on the 9/18 months time frame, are the November dates fixed yet? If not when will they be decided?" asked one viewer.
Another later posted in the Facebook group: "I'm interested to know why money was taken for a course if [sic] March 17 when this was clearly an issue for a number of years."
The latter post received a curt reply from one Noorah Naker, who appeared to be handling Facebook customer enquiries on behalf of Sage. Naker said: "You were emailed 1 hour ago. Please check your emails. Thank you." The customer then posted what appeared to be the text of an email from Sage's representatives, which said: "Dear Vanessa. I'm sorry it takes so long. It appears that your Programme Advisor, who should be involved in the refund process is unavailable until Monday." Naker then promised to put the customer in direct contact with Jangda.
"What happens with the London SBS in March that I have paid for? I haven't seen any video or written statement about this!" complained another customer over the weekend.
Sage's website continues to advertise his Sage Business School, Masters Circle and Elite Mentorship Forum. The video of the public statement was deleted over the weekend without explanation.
Business? I hardly knew her
Peter Sage claimed to have handed Space Energy, the company at the centre of the $17.5m fraud allegation, "to the United Nations". It existed as a Dubai company whose shares were held by a UK entity, Space Solar Technologies Ltd (SST). SST was incorporated in August 2012 with Sage as its sole director. After six months he handed his sole directorship of the firm to one John Paul Collins of Scotland. SST did not file any accounts during its two year existence and was compulsorily struck off by Companies House in April 2014.
One of Peter Sage's many other business ventures was his Millionaire Business School. The page for this on his website still exists but has been emptied of content. In his January judgement Mr Justice Jay noted: "By November 2015 Mr Sage knew that his MBS venture was going to be successful."
Sage's Twitter account, @petersage007, is also being emptied of content. While registered in 2012, the account now only displays tweets going back to November 2016.
A similar venture is the Sage Business School, billed as "Peter's flagship event" on his website homepage. Upon clicking the link to "learn more", The Register was taken to a website with the address reinventyourself.io. This domain is registered to one Jill Bromige, who gave her address as being in the Autonomous Community of Murcia in Spain. Bromige was referred to extensively in Mr Justice Jay's judgement as Peter Sage's "de facto step mother" and as the one "pulling the financial strings" behind Sage International, yet another of Peter's businesses. The judge said "a number of points … have driven me to the conclusion that Ms Bromige was not a witness of truth; rather, she is an accomplished purveyor of untruths."
Sage International FZE appears to still exist as a UAE company, its address being given as the 14th floor of a Dubai hi-rise office block.
When The Register made a test registration for the Masters Circle programme, a notice appeared at the bottom of the reinventyourself.io website attributing it to Quantum Development sp. z o.o ul. Halicka 9, 31-036 Krakow, Poland. An email generated by the registration, routed through Hubspot, gave the same address.
Elsewhere on the reinventyourself.io website is a reference to "Quantum Development". This is associated with Peter Sage through an address in Chippenham, Wiltshire, which the website mrandmrssage.com is also registered to – along with an email address from the domain teamsage.net – though no such UK company exists under that name.
Mrandmrssage.com also includes a wedding countdown clock which ends in four months' time, a period which falls squarely in the middle of the prison term Peter Sage is serving for contempt of court.
Peter Sage's website, petersage.com, carries no statement regarding Sage's imprisonment in January, or his likely release date of October 2017. There is no indication on the website as to which corporate entity is operating it, which is a legal requirement for UK businesses under the Electronic Commerce (EC Directive) Regulations 2002. Those regulations transpose an EU directive into UK law, and the directive applies across all EU member states including Poland.
Sage's Facebook page makes no public reference to Peter Sage having been imprisoned, nor does it mention the ongoing High Court proceedings brought against him by HPE. A post which referred to the livestream broadcast of 2 February has since been deleted.
A Facebook group operated by Sage's business associates has had several posts which referred to Sage's imprisonment or asking about the allegations made by HPE deleted, including a link to the full court judgment against him, which was publicly released following enquiries by El Reg.
It appears that despite his current lodgings, Peter Sage's associates want to keep the whole "our founder and the man our business is built around has been jailed for nine months" thing as quiet as possible.
The Register is awaiting comment from HPE on the allegations it has made against Peter Sage. ®
Sponsored: Detecting cyber attacks as a small to medium business