Flash! A-ah! He'll save everyone of us... from sluggish disk boxes
Cloud provider offers DR-as-a-service using flash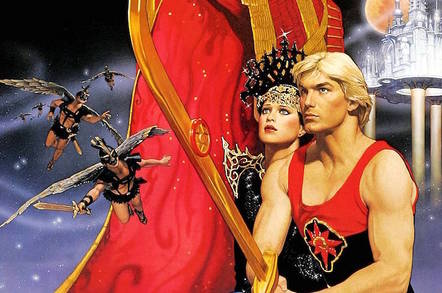 Analysis All-flash arrays are now the storage choice du jour for storing fast access primary data but have not been used for storing secondary data, such as unstructured data, ordinary files and just-in-case disaster recovery (DR) data. But change is coming, driven by cheaper flash drives and the realisation that fast access to secondary data is, obviously, better than slow access.
The product indications have been several:
WD SanDisk InfiniFlash with partners

Nexenta
Tegile IntelliFlash
Red Hat

Toshiba Flash Matrix
Pure Storage FlashBlade
Coming all-flash Isilon filer
Dell EMC DSSD D5 array
Flash technology is developing so as to bring down costs – witness 3D NAND with its layer count heading from 48 to 64 with a roadmap to 72 (SK Hynix) and onwards to 96 or 128 layers. We are starting to hear more about QLC (quad-level cell – 4bit/cell), which has a greater capacity than TLC (3bits/cell) flash.
We are also now beginning to hear about customer wins that show this flash-based secondary data storage has legs. There is the Pure Storage FlashBlade win over NetApp we highlighted recently, and now we have another.
A cloud service provider called Peak 10 is offering a DR in the cloud service based on WD SanDisk's InfiniFlash hardware and NexentaStor software. Private equity-owned Peak 10 has 16 data centres in the US and more than 2,600 customers. It offers a Recovery Cloud for a range of workloads and has DRaaS for co-location customers using Peak 10 production workloads and for other users as well.
Peak 10 need to update its HW and SW and settled on more than 2.5PB of InfiniFlash hardware running NexentaStor software.
It says its data access latency is now 1-2ms, faster than the previous disk-based storage with its 5-20ms latency. It also reduced rack space requirements from 100U to 7U, and electricity needs were lowered by 75 per cent; the usual flash over disk advantages.
Peak 10's Chad Buzzard, director of cloud infrastructure, said in a canned quote: "Many of our customers regularly perform DR tests, and depending on exactly what a customer was testing, concerns around disk performance could arise. Since switching to software-defined storage on flash with lower latencies and higher throughput, those concerns have virtually disappeared."
IDC research director Eric Burgener picked up on the secondary storage angle of this in another canned quote: "AFAs are clearly the future of primary storage, and products like InfiniFlash – when running on enterprise-class unified storage software platforms like NexentaStor – are bringing the benefits of flash to additional workload types, such as DR, that have traditionally been considered secondary."
Now IDC has a relationship with Nexenta (see this Buyer Case Study) so bear that in mind when reading its complementary comments.
The net-net here is that cheap flash and storage software make all-flash secondary storage feasible, particularly where fast access to the secondary data is important. Nexenta CEO and chairman Tarkan Maner hammers this point home, as you would expect him to. "All-flash software-defined storage is breaking down storage economic barriers and is enabling our customers to take flash to workloads they would never have considered in the past." Exactly.
During 2017 El Reg expects more all-flash secondary storage purchases to be made and more vendors to enter the market with products, either directly or through OEM deals with WD.
We can note that none of the following all-flash array vendors have suitable product... yet:
Dell EMC outside high-end DSSD D5 – but an all-flash Isilon filer is said to be coming
Fujitsu
HDS
HPE
IBM
Kaminario
NetApp
Nimble Storage
Tintri
This is not an exhaustive list by the way.
The flash for fast data and disk for slow bulk capacity data has been likened to a flash-and-trash scenario. That could start changing to a flash and flash-trash one instead.
The potential market for all-flash secondary storage is vast and, once high-capacity, 64-layer 3D NAND drives are readily and affordably available then we might see an onrush of products. Naturally the time scale over which flash replaces disk in secondary storage will be counted in decades though.
As a final thought: object storage has been viewed as slow, being based on disk-using storage nodes. Suppose they became flash-using nodes... ®
Sponsored: Detecting cyber attacks as a small to medium business