Motivational speaker in the slammer after HPE applies for court order
A story of a £24k ring and a man who compared himself to Nelson Mandela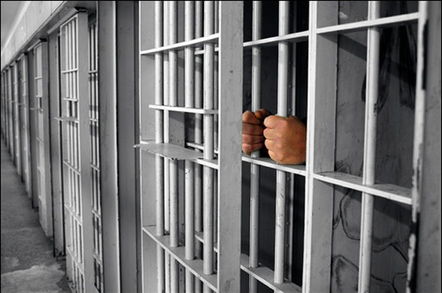 A "serial entrepreneur" Brit who compared himself to Nelson Mandela and whose solar power company is alleged to have defrauded Hewlett Packard Enterprise out of $17.5m in discounts has been jailed for 18 months by London's High Court following an application by HPE.
During a court-ordered dawn raid on his home in Leicester, England, by lawyers and digital forensic experts from London firm Mishcon de Reya, who had been retained by HPE, motivational speaker Peter Sage moved £114,000 offshore over the course of ten minutes – breaking the terms of a worldwide asset-freezing order against him.
He was committed to prison for contempt of court by Mr Justice Jay, sitting in the Queen's Bench Division of the High Court, in January after being found to have ignored a number of court orders seizing his assets and ordering him to hand over information about his business dealings.
Sage, described by the judge as "an extremely charming, charismatic and polished individual", was accused by HPE of operating a Dubai-based company called Space Energy. The firm was said to have "large solar energy facilities in the Middle East and Asia".
HPE convinced the British courts to issue a freezing order and a house search order against Peter Sage in 2015 after becoming suspicious that Space Energy, which collapsed in around 2014, was a fraudulent entity. The company alleges the activity cost it some $17.5m. These allegations were not determined by the judge in the committal hearing and will be decided by a full trial in March.
In April 2014, Sage left Dubai for the UK along with his fiancée. The judge said Sage's departure from the Middle East was "because he had lost his appeal against [a separate, and local] Freezing Order imposed in March" after running up debts of $1.7m.
Sage had also set up another Dubai company, Sage International, to promote himself as a motivational speaker and entrepreneur, and set up a website where he described himself as an "international and serial entrepreneur, author, philosopher and teacher". He operated the firm along with his fiancée, Lorraine Thea Thorpe, who looked after the promotional side of Sage International – though the judge noted "her skills lie altogether elsewhere" and that she "had no expertise in this regard".
Although Sage transferred legal ownership of the company to Thorpe, the judge ruled that he retained beneficial control of it all along. Sage International used Peter Sage's personal bank and PayPal accounts throughout its existence, a point also ruled upon by the judge despite attempts to claim otherwise.
After leaving Dubai, the two moved into a house Sage owned in Leicester, where he immediately put all the utility bills into Thorpe's name "to keep him – to use his phrase – off the radar", said Mr Justice Jay, who added: "Put less metaphorically, his purpose was to conceal himself from creditors and the tax authorities."
And it burns, burns, burns...
Sage also bought Thorpe a diamond and sapphire engagement ring "at a cost, he says, of £22,000-£23,000", in the words of the judge. This ring was supposed to have been handed over to HPE's solicitors thanks to the search order the company obtained against Sage.
When HPE's lawyers turned up on his doorstep just after sunrise on 3 December 2015, the box for the ring and an insurance valuation were found, but not the ring itself. Sage told Mishcon de Reya partner Jeremy Hertzog, who was one of the team searching Sage's house, that the ring did not exist.
This "was so obviously false as to be ludicrous", said the judge. Sage promptly swore an affidavit that he had given the ring to a former Space Energy employee called Colin "Dodgy Col" Newby Smith to settle a debt over allegedly unpaid wages. "This account, too, is an obvious fabrication," Mr Justice Jay stated.
Then it was claimed that the ring had been only temporarily given to Dodgy Col until the couple paid him £7,000 – and when Thorpe paid him £7,500, a sum that was never explained to the judge's satisfaction, both she and Dodgy Col – who had been jailed for 33 months for fraud in October 2016 and had since changed his name to Clifford Harper – told the court that the ring "was promptly replaced on Ms Thorpe's finger" in the lounge of Sage's home.
Yet this version of events, too, was thrown out by the judge, who decided that Thorpe most likely hid the ring "at some convenient moment" during the dawn raid on her and Sage's shared home in December 2015.
Going down
HPE eventually applied to have Sage committed to prison for contempt of court in November last year.
"It is clear from a number of internal documents that Mr Sage has an extremely high level of self-belief, matched by immense aspirations for future personal success. He likens himself to Nelson Mandela. This self-confidence no doubt makes him a powerful teacher and presenter, but – in the absence of genuine insight – has the tendency to make him an unconvincing witness," Mr Justice Jay said.
Antony Peto QC, counsel for HPE, told the court that Sage "hoped to use the tools of his motivational speaking career in order to deceive the court", according to the judge, who concluded: "Mr Sage was doing precisely that."
Mr Justice Jay found that Sage had committed contempt of court by: retaining beneficial control of Sage International and therefore not declaring it as an asset of his, for the purposes of the freezing order; sending his/Sage International's money abroad on 5 December 2015, contrary to the freezing order; failing to immediately reveal that he controlled those bank accounts; and failing to immediately disclose the existence and hand over control of eight email addresses on petersage.com, the domain he owned.
"In my judgment Mr Sage's breaches of the Freezing Order and Search Order were deliberate and extremely serious," said the judge. "Plainly, Mr Sage took an early policy decision to distance himself from the activities of Sage International, reckoning that the very steps he had engineered in Dubai to evade the scope of the Freezing Order there would equally avail him here. All the other contempts flow from that policy decision."
Mr Justice Jay continued:
In my judgment, Mr Sage has shown no remorse and has had ample opportunity to comply. Late promises to comply are insufficient. As I have said, his litigation strategy has been to seek to justify his position "retrospectively". This was a poor exercise of judgment, overly dependent as it was on Mr Sage's imagined ability to talk himself out of a tight corner.
Sage will serve at least nine months in prison. The full trial against him on the allegations made by HPE relating to Space Energy is due to begin in March this year. ®