Speaking in Tech's Greg accepts dare to moonlight as an Uber driver
It was a real eye-opener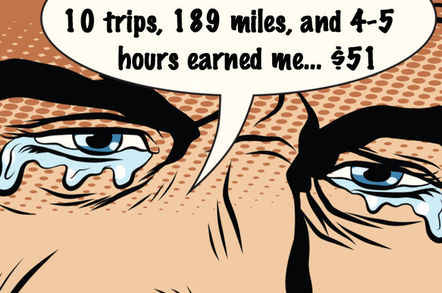 Podcast

Greg, Ed and Melissa are joined by Cory Minton, Dell's Big Data man, to discuss the on-demand economy, Oracle licensing, Platform-as-a-Service and the holographic universe.
The details…
(00:00) Throwing down with Smallbone
(00:47) Introducing Cory Minton of Dell EMC
(01:54) Uber driving sucks
(08:47) Dumping Slack
(09:25) Magic virtual assistant gets expensive
(13:46) Biz travel with the family
(16:42) Big Data and the trough of disillusionment
(19:08) Oracle licensing fees jump in AWS
(24:05) Is PaaS dead?
(29:06) The convergence of containers and pass
(29:41) Mind blown: The holographic universe
Listen with the Reg player below, or download here.
Podcast Subscriber Links
Subscribe through iTunes
Subscribe through Google
Subscribe through Stitcher
Feed URL for other podcast tools - Juice, Zune, et cetera: http://nekkidtech.libsyn.com/rss