Let's replace Ethernet with infrared light bouncing off mirrors!
No, seriously. Microsoft-supported scientists think this is a good idea in the data centre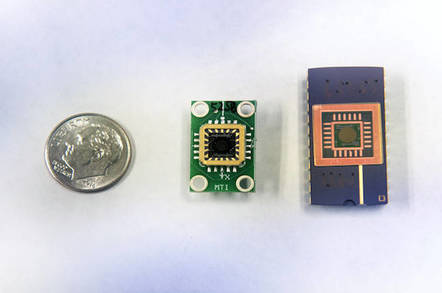 Microsoft-supported boffins hope to eliminate cables in the data centre entirely.
They're not, however, deluded enough to think that Wi-Fi is the answer. With thousands of switch ports in a decent data hall, connections have to be uncontested and point-to-point, so the Penn State University researchers have been working on free space optical (FSO) communications over infrared wavelengths.
FSO isn't itself a new idea, but the university's added a little special sauce by creating kit that automates the business of aiming the transmitter at the receiver.
Shown off at Photonics West 2017 in San Francisco, Firefly (acronymically tortured out of Free-space optical Inter-Rack nEtwork with high FLexibilitY, we kid you not) proposes FSO to provide multiple 10 Gbps inter-rack links.
Since the kit can be put on top of data centre racks, the infrared laser beams that provide the links aren't interrupted by the wandering sysadmins, the Universty's announcement says.
Targeting is taken care of by small mirrors under electromechanical power to aim mirrors in the transmitters. Software at the receiver provides feedback to refine the aim, and the beam can be reconfigured under software control to target different receivers.
The researchers say they're working on improving the fibre interface of their devices, and are developing provisioning and management software. ®
Sponsored: Webcast: Build the next generation of your business in the public cloud