Apple CEO: 'Best ever' numbers would be better if we'd not fscked up our iPhone supply
Holiday phablet shortage was our fault, says Tim Cook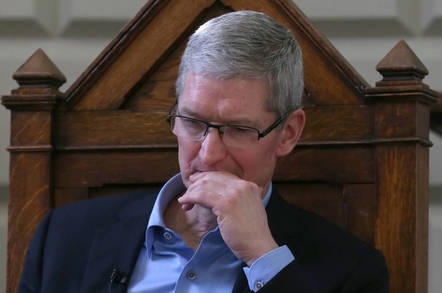 Apple recorded its best quarterly numbers ever despite an admitted shortage of iPhone 7 Plus phablets.
CEO Tim Cook said that the Cupertino Newton builder underestimated the holiday demand for the iPhone 7 Plus, and as a result they were unable to get enough handsets onto shelves and into the hands of customers.
"We did not predict the demand on the 7 Plus very well," the Apple boss admitted to analysts during the Q1 2017 earnings call, where Apple also reported record Mac and service revenues.
Revenues of $78.35bn were up three per cent on the year-ago quarter.
Net income of $17.9bn was down from $18.4bn last year, due to higher operating expenses.
Earnings per share of $3.38 topped analyst estimates of $3.22.
Apple shipped 78.3 million iPhones on the quarter for revenues of $54.4bn, up 5 per cent on Q1 2016.
Mac shipments of 5.3 million units netted revenues of $7.2bn, up 7 per cent.
Services (including iTunes and the App Store) accounted for $7.1bn in revenues, up 18 per cent. Apple predicts its services operation will itself bring in the revenues of a Fortune 100 company by the end of the year.
iPad revenues were one of the few disappointments this quarter at $5.53bn, down 22 per cent from Q1 2016. Revenues from China were also down 12 per cent.
Cook took time during the call to discuss Apple's ongoing war with Qualcomm over patent licensing and royalty payment disputes. Apple is seeking $1bn in damages.
"They were insisting on charging royalties for technology they had nothing to do with, we were in a situation where the more we innovated ... the more money Qualcomm would collect for no reason and the more expensive it would be for us to innovate," the Cook, he grumbled.
"It's like buying a sofa, and you charge someone a different price depending on the price of the house it goes into."
Cook also left the door open for a major acquisition this year, thanks to the expected repatriation of billions of dollars in cash held overseas. "We look for companies of all sizes, there is not a size that we would not do," he said, "it is more about the strategic value."
Apple shares were up 3.01 per cent at $125 in after-hours trading. ®