In China, Apple's gegenpress doesn't scare the locals
Cook talks up HomeKit and enterprise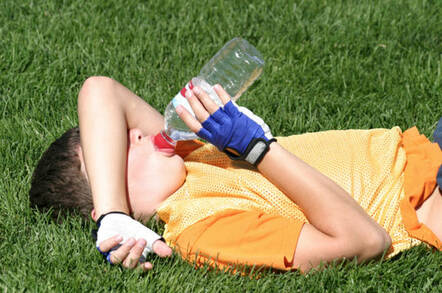 Analysis Apple's main job in earnings conferences is to remind us that there's more to the world's most valuable company than the iPhone – while persuading us that the iPhone is doing really jolly well. The iPhone generates almost two-thirds of Apple's wealth.
The latter task was easily accomplished yesterday, as this was the first quarter in which new model iPhone revenue was booked. Apple said it had sold 78.3 million iPhones, an "all time record an increase of 5 per cent over last year. Customer demand was even higher than our reported results, as iPhone unit sell-through was up 8 per cent," said CFO Luca Maestri. Apple put the prices up, so it got more revenue, recording a higher ASP (average selling price)
But the iPhone rarely sets out with anything other than a loud bang. Rather like Jorgen Klopp's Liverpool, it's too early to tell if the team is exhausted: in Apple terms, it's still September and the players are gegenpress-ing with the enthusiasm of spring lambs. We'll have a better how appealing the iPhone 7 really is at the end of April, and whether "iPhone fatigue" is really a chronic condition.
So Apple talked up other parts of its business. It's interesting for what this excluded – the Watch, the car (driving nowhere), AI and VR, and what it included.
So it was unusual to hear such an emphasis on enterprise partnerships, with namechecks for Cisco, SAP, and IBM. That rarely gets a mention, and even more rarely from the CEO himself. It's a sign of both Google's encroachment into the dull but lucrative enterprise IT business, and a reminder that Apple's business isn't so reliant on the fickle consumer fads as you might think. Look at our stable recurring income, said Apple, and marvel!
China crisis
China is a historical sore point, with analysts persistently demanding that Apple produce more competitively priced models for the world's biggest market. Apple has consistently argued against this, saying as that more Chinese got richer, the more iPhones it would sell, and without sacrificing its margins. The calls from investors are more anxious this year, given the unstoppable growth of budget Android and the ever-improving quality of home-grown phone brands.
And it isn't just about the sticker price. Rivals offer stronger sales incentives through their much more extensive sales channels, and pack the phones with Chinese services and social networks. (The latter isn't a challenge unique to Apple: Google isn't really in China at all).
If you see an Apple Store in China, it's probably fake. Here's one I snapped in Shenzhen. There are plenty more in the mall: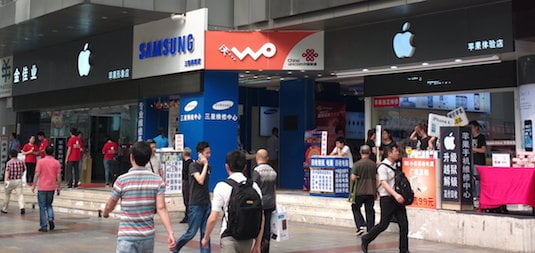 In all emerging markets, Apple is fighting an overvalued dollar – meaning prices are "20 per cent, 30 per cent, 40 per cent" higher than they were, says Apple. But analysts didn't see much cause for cheer.
Mainland China, claimed Luca Maestri, matched previous revenue, and iPads on the mainland saw double digit growth. But this a glass half full argument. China revenue actually fell 12 per cent, and it was the only reason to see a decline.
Lots of lovely lolly in the bank
Apple wouldn't give any hints about its much rumoured video strategy at its quarterly conference call yesterday. With 150 million active subscribers, Apple already has a formidable base in which to fling original content: the formula that worked wonders for Netflix and set the trend for "cord cutting".
With a mind-boggling $246.1bn in cash plus marketable securities, the perennial question is how Apple will invest it. The most widely tipped is muscling into content.
Recently big telcomms companies and media giants have been mating, to take on Internet pure plays like Google and Netflix. Apple already makes a huge amount from slinging content already: it logged $7.2bn in the Christmas quarter from apps, music and taking a cut of payment transactions. The app store was $3bn of that.
CEO Tim Cook described Apple's content business as a "toe in the water" (he used the phrase twice) but wouldn't give anything away, other than stating that cord-cutting was a trend that was hear to stay. Apple has plenty of reasons for staying out of content, however: it isn't an area where it's technology or design or brand bring any particular benefits. Keen movie buffs may disagree, but few movie studios ever built up a recognisable brand, with the fan thinking "There's a new movie from Paramount – I must see it."
Figures were more elusive for Apple Pay, but it's early days, operating in 13 markets. The Apple Watch was rapidly passed over ("best quarter ever… we couldn't make enough") – Cook was far keener to talk about the HomeKit ecosystem of Siri-controlled doors, windows, heating and alarm systems.
Tim Cook said it would have sold more Macs, but was supply constrained on the Pro through the quarter and are only just now getting the parts they need to fulfil demand.
Cook had some detailed observations on its litigation against Qualcomm:
"They were insisting on charging royalties for technologies that they had nothing to do with. And so we were in a situation where the more we innovated with unique features like Touch ID or advanced displays or cameras, just to name a few, the more money Qualcomm would collect for no reason and the more expensive it would be therefore for us to innovate," he said.
So the grumbles are likely to continue. Wearables, the mythical Car, AR all look like experiments. Only hits satisfy the market. ®