Big Switch emits next iteration of its fabric
More VMware, more containers, more switches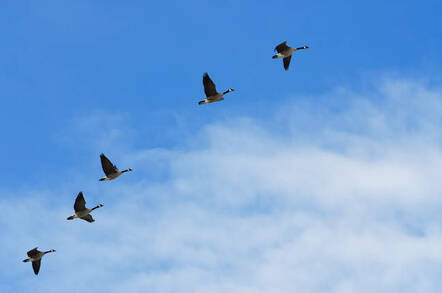 Big Switch Networks has peeled back the veil over its Big Cloud Fabric 4.0, revealing broader VMware support, multi-container networking, and scale-up to 128 leaf switches.
Support for VMware comes via plug-ins for vSAN, vCloud NFV (network function virtualization), and a vRealise Log Insight Content Pack.
Product management VP Prashant Gandhi told Vulture South the support is pretty straightforward. With the existing Big Cloud Fabric architecture in place, "all we had to build to enable VMWare was to create a plug-in where we would understand the VMWare environment, and translate the intent, communicate the intent through APIs."
The expansion of container support adds Mesosphere's DC/OS, Kubernetes, and Red Hat's OpenShift orchestrators to manage Docker or Mesos containers, using a plugin for the Container Networking Interface framework to handle physical and virtual networking.
The container support, Gandhi said, is aimed at the enterprise deployment. "They go to containers not because they want 50,000 instances, but because they want a very uniform form factor that can traverse the public cloud and the private cloud, and to simplify their life cycle."
The attraction of BCF, Gandhi said, remains the combination of automation and analytics. "When something goes wrong, admins have a hard time identifying whether it's a network problem or a server or a virtualization problem."
The troubleshooting workflow is "difficult to deploy across silos," he said – leaving admins stuck with box-by-box troubleshooting.
"We give the admins a single button to trace the fabric; traffic shows up in the GUI in a few seconds."
In a world where enterprises want development, test, and deployment to happen as quickly as possible, the admin doesn't have to build three different environments, or carve out sandboxes for different orchestrators.
The virtual pod – vPOD – technology first launched a year ago now connects into BCF's container support, meaning automation for network configuration can take into account container environments like Kubernetes, Mesosphere and OpenStack.
"Containers are mischievous – they can grow, shrink, move very rapidly. So we're capturing a source of truth that's seen consistently by both domains, so they can correlate issues and arrive at a root-cause-analysis."
On the extra scale that's coming in BCF 4.0, Gandhi was frank: it's as much a box-tick as anything else, a checklist item so that incumbents can't use "it doesn't scale" to push Big Switch aside in RFPs.
"There's less than a few percent of our customers at that scale," Gandhi said. "Most of our customers deploy 10-15 racks – 20 to 30 switches."
The expanded VMware support is shipping now, the container orchestration is now running in proof-of-concept deployments and the network upscaling will land in beta in March. ®