Smiley techie Datacore chairman Ziya Aral: RIP
Tech visionary pushed parallel IO processing to the end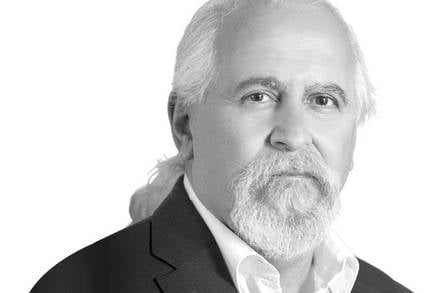 Obit Datacore co-founder and chairman Ziya Aral has passed away, aged just 64.
He co-founded DataCore with CEO George Teixeira in February 1998 after a 20 year career in the software industry, including serving as chief technology officer / vice president of engineering at Encore Computer Corporation. He also designed the first high availability UNIX-based intelligent storage controller in the industry, and his development team pioneered storage virtualisation and disk-based data-sharing and provisioning technology.
Latterly an Aral-driven team at DataCore has produced parallel IO software that has shattered SPC-1 benchmarks.
DataCore provided virtualised storage software, block-access storage using aggregated PC's direct-accessed disk initially, and then aggregated local storage on servers, with its SANsymphony product.
It was one of the first software-defined storage companies, along with FalconStore, providing virtual SANs a long time before VMware caught the VSAN bug. DataCore, IBM's SVC (SAN Volume Controller) and the Hitachi HDS USP/VSP products are the only real survivors of the initial storage virtualisation wave of development which saw products like EMC's Invista, Brocade's Rhapsody, and StoreAge software, all now in the EOL history books.
DataCore has ridden the software-defined storage wave and has also moved into hyper-converged systems.
Some DataCore history
Back in October 2012 we wrote that the DataCore story starts with Massachusetts-based Encore Computer Corporation, a pioneer of parallel processing systems along with Pyramid and Sequent. George Teixeira was VP and general manager of the product business unit and Ziya Aral its VP for engineering and the chief technical officer. Encore bought the Fort Lauderdale-based Systems Engineering Labs from Gould in 1989, with its line of 32-bit computer-based products and control systems for NASA. It then built Infinity-90 storage devices for Unix, Windows and mainframe computers, using a reflective memory design that enabled SAN (Storage Area Network) functionality; the storage device could be shared by accessing servers.
Encore's storage products group was sold to Sun Microsystems in 1997 for $185m, with some 200 employees going with it, and Sun sold the storage product as the A7000. It didn't last long and was dropped. After Sun bought the storage products group both Teixeira and Aral left, with Teixeira founding DataCore in Fort Lauderdale, Florida, in February 1998.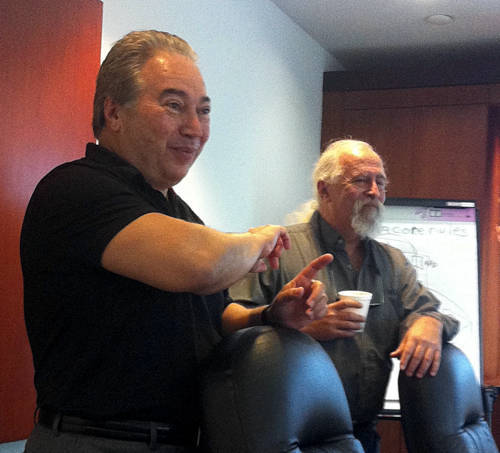 Georege Teixeira (left) and Ziya Aral (right).
Aral joined as chairman and other Encore-era colleagues of the two joined in as well, a dozen in all. They worked with no pay until the January 1999 infusion of nearly $8m angel investment and venture capital funding.
In 2005 and 2006 funding venture capital backers lost interest in DataCore, so Teixeira, Aral and other employees mortgaged their houses and bought the VCs out, with only one left. Later, in 2008, two VCs invested $35m and received a preference share stake.
Aral and Teixeira kept DataCore independent and haven't pursued an IPO.
Parallel IO
Ziya Aral was a visionary and saw that multi-socket and multi-core servers suffering IO waits from storage did so primarily because of CPU bottlenecks and not from storage access latency. He and a team of technologists at DataCore developed Parallel I/O software which executes independent I/O streams simultaneously across multiple CPU cores, which reduced the time it takes to process I/Os and enabled a single server to do the work of many.
The effect of this was seen in a string of SPC-1 benchmarks in 2016, where DataCore software running on Lenovo servers blew the socks of multi-million dollar rigs. DataCore and Lenovo, for example, achieved a 5 million IOPS result , blowing away a 3 million-plus IOPS record from a $2.37m multi-rack Huawei system. The Lenovo/DataCore system cost $506,525.24.
Other examples are here and here.
Under Aral's chairmanship, and with George Teixeira as CEO, DataCore has accumulated much more than 10,000 customers from its Fort Lauderdale base, and grown to be a quiet powerhouse of independent shared storage software development. Much of that development was driven by Aral. He was a gold winner in the Best in Biz Awards Innovator of the Year category.
Aral was a warm, calm and insightful man who persuaded others through engineering logic and vision rather than confrontation.
Illness
Last year Aral contracted lung cancer and pneumonia. Teixeira tells us: "Over the last year, Ziya pretty much fully focused on parallel processing technology, believing it to be the key to unlocking the next big step forward in real-time analytics, big data performance and the IoTs. He was passionate on where this will take our industry and he worked with Roni Putra, our CTO, and Nick Connolly our Chief Scientist and many others within engineering to make sure we had a multi-year plan and roadmap to go forward."
We understand he and Teixeira called DataCore execs over the January 21/22 weekend so Aral could tell them he was at peace and wanted them to take his technology legacy forward.
Aral is survived by his wife, Nancy Aral, daughter Alex Aral and son-in-law Tyler Besner. There is a memorial webpage for him here. ®
Sponsored: Quit your addiction to storage