Avaya's bankruptcy protection is a 'good thing,' says Europe North veep
Yes it is. You at the back, stop sniggering!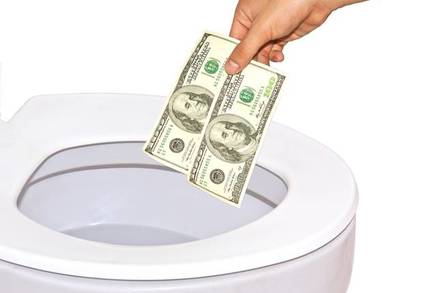 Ronald Rubens, Europe North veep at telecommunications biz Avaya, is busy doing some serious damage limitation, after the US Avaya parent company filed for bankruptcy protection earlier this week.
When Rubens and Gary Barnett, senior VP and general manager of engagement solutions at the biz, spoke to El Reg last week, it was in a taxi on the way to meet "a very important customer" in the UK.
"We're very busy over the meeting and reassuring customers and partners," he said.
The chapter 11 bankruptcy protection for its $6.3bn (£5bn) in debt only affects Avaya's US subsidiaries – its foreign entities are not included.
But for the UK business, Rubens reckons it's not just a case of "business as usual," but the protection notice actually amounts to a positive long-term move for the company. "I believe this is a good thing," he says.
Readers might be forgiven for wondering how on earth filing for bankruptcy protection can be a good thing. But Rubens says the notice will free the company of its debt for good, which has been costly to service.
"The thing about the restructuring is it only applies to the balance sheet, so it's not an operational restructuring." He is adamant there will be no redundancies as a consequence of the move.
"If we hadn't got a bankruptcy protection then that would have meant our operation was compromised."
Avaya would have hit a debt wall at the end of January in agreements with creditors to address its debt or default. The debt arose from an $8.2bn (£6.5bn) buyout in 2007 by private equity firm Silver Lake Partners. Interest expense of more than $400m (£319m) a year has been pushing Avaya into losses.
But instead, it has agreed with its lenders to convert the debt into a stake in the business. That process is estimated to take around 3‑6 months. Barnett says that all the company's debtors have agree to convert their loans into equity.
"They all have the appetite for this. We would not have been able to go through it if they had not."
He says the only thing that could derail the process is if any of the company's debtors change their minds. "I don't think that is likely. It's possible the markets might change dramatically – but it would have to be a large and monumental change. This is a cooperative process."
In the interim, Avaya secured a $725m (£577m) loan from Citigroup to fund its operations during the reorganisation.
But surely customers must be alarmed at hearing the word "bankruptcy" applied to their critical communications supplier? Not according to Rubens.
"We are talking to a lot of customers, but the majority are not concerned. Even our customers in emergency services do not seem to be concerned."
Avaya doesn't break down its customer base by country, but has a fairly sizable base, claiming to have 60 per cent of top car insurers on its books, half of the largest UK banks, 8 out of 13 ambulance services trusts and 50 per cent of fire and rescue units.
Avaya's revenue fell to $958m (£763) for its fourth quarter, down from $1bn (£800m) last year. And the company posted a net loss of $750 (£598m).
Certainly the bankruptcy protection notice will have an impact on drumming up new business in the UK, as customers remain jittery about the company's future. That is one point Rubens is willing to partially concede.
"We anticipate there might be a small decline [in business]," he says – before hopping out the taxi to continue Operation Reassurance. ®
Sponsored: Detecting cyber attacks as a small to medium business