Tesla sues ex-manager 'for stealing 100GBs of Autopilot secrets'
If true, we hope he got the file on avoiding truck trailers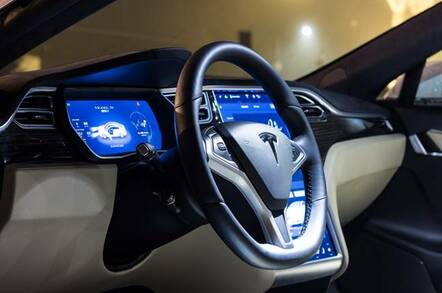 Tesla has sued a former employee who left to set up a rival business, claiming he tried a not-so cunning plan to steal company secrets and lure away key staff.
Sterling Anderson joined Tesla in 2014 as a senior product manager working on the Model X SUV. In 2015, he became director of the Autopilot team. At the end of 2016, he apparently came up with the idea of starting up his own car company – dubbed Aurora – with Chris Urmson, formerly the director of the Google self-driving car scheme.
According to court documents [PDF] filed on Thursday, Anderson knew when he joined Tesla that he couldn't take company secrets with him if he left, and that he was forbidden in his contract from trying to poach staff – either directly or indirectly – for 12 months after leaving. Tesla claims that to get around this, he and Urmson concocted a Strangers on a Train plan to hide their tracks.
Tesla claims that Anderson gave Urmson a list of engineers he thought they should poach, and then relied on him to do the sweet talking. In return, Anderson approached Google engineers suggested by Urmson. Tesla also claims its former employee did approach some of its staff directly himself.
When Anderson told Tesla has was leaving the firm last December, he told them that he was looking to spend more time with his family and was mulling a new startup that wouldn't compete with Tesla. However, he agreed to stay on for a little while to see the Autopilot project through.
Tesla claims he used this additional time to try harder to poach staff, but in a rather inept way. He used his work phone and laptop to carry out these activities, and even approached some people while at work.
On January 3, three engineers on the Autopilot team handed in their notice and said they were moving to Aurora – although one has since asked for his job back. Tesla's lawsuit states this caused Anderson to move into overdrive.
He erased his company-issued iPhone and deleted a large number of files from his laptop, and then manually changed the timestamps on some fields to obscure when they were opened or deleted, Tesla claims. He also purged his browser history, according to the automaker.
This was bad enough, Tesla said, but Anderson also made regular backups onto external hard drives and didn't declare this. Indeed, he told the company that he had deleted all of its confidential information. The car maker believes Anderson kept the blueprints and internal files, though:
Anderson also downloaded hundreds of gigabytes of Tesla confidential and proprietary information to his personal Toshiba hard drive. Upon the end of his employment, Anderson was required to return all originals and copies of all documents and other company property in his possession. Anderson returned his company-issued laptop, but not the "backups" he had regularly created, which contain hundreds of gigabytes of data, including some of Tesla's most competitively sensitive information. Were that not enough, Anderson then doctored the laptop, manually hacking the timestamps on files and secure-erasing others, all in an attempt to conceal his misdeeds.
Tesla is alleging breach of contract, breach of duty of loyalty, and other wrongdoing, and wants a court in Santa Clara, California, to set damages. It'll also be hoping the ensuing kerfuffle derails its rival's plans. ®
Sponsored: From CDO to CEO