Commvault revenues growing nicely but profits ain't
Investing for growth and hoping rising profits will follow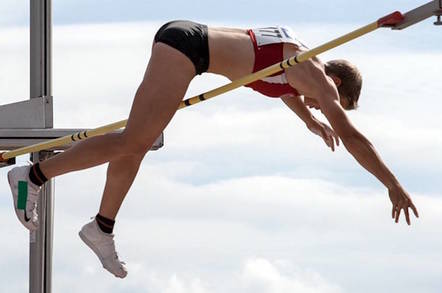 Commvault is on the up and up, with sales rising nicely and third-quarter revenues up 7 per cent annually to $165.8m, although it did make a $100K loss.
Software revenues were $77.3m, up 8 per cent year-over-year, with services revenues of $88.5m, up 5 per cent y-o-y. Stifel MD Aaron Rakers noted: "Management reported it continues to see strong growth from cloud, which was cited as accounting for a material (unquantified; we estimate >20 per cent) portion of revenue/growth."
William Blair analyst Jason Ader writes: "Commvault logged another solid print in its fiscal third quarter, beating consensus on top and bottom lines by $2 million and two cents, respectively ... Software strength was driven by increasing adoption of Commvault solutions in the cloud (petabytes of data stored in the cloud using Commvault data management and protection increased by 250 per cent in calendar 2016) and growth of stand-alone products in the mid-market and enterprise (which carry a two-times attach rate on other software solutions)."
Ader comments: "Commvault delivered software revenue upside in the quarter despite a dearth of large, seven-figure deals, which had lower close rates. A year ago, Commvault probably would have missed numbers without strong contribution from large deals, which speaks to the recovery in the core, midsize deals ($100,000-$200,000) that have always been Commvault's bread and butter. Management expects higher close rates for larger deals in its fiscal fourth quarter, which creates a nice setup for software revenue."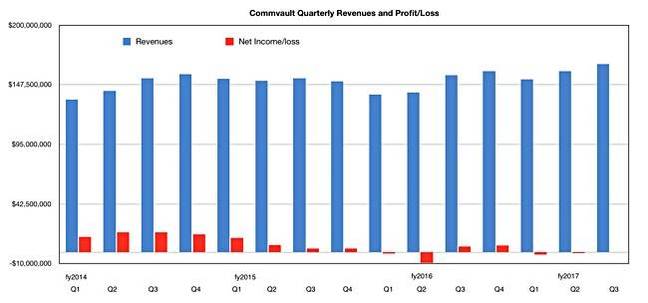 Rakers said 600 new customers have been added in the quarter, compared to 450 in the previous quarter. The company now has some 24,500 customers in total. He says significant new product enhancements are expected in early February and mentions a forthcoming Oracle cloud relationship as being a likely growth driver. There will also be "major product launches at its second annual Commvault GO Conference in November 2017."
Looking at the outlook, Ader says: "Management guided to 'strong double-digit growth' in software revenue for 2018, which looks achievable (though will require consistent execution) given the recent momentum in the business, increase in salesforce and distribution capacity, and the success of new product offerings."
Commvault says the consensus estimates from the financial analyst community of $166.8m for the fourth fiscal 2017 quarter and $692.7m for fiscal 2018 are reasonable. That would imply $644.3m revenues for fiscal 2017, an 8.3 per cent rise on last year. Full-year profit implications are for a $2.7m loss, unless there is a profit in the fourth quarter.
Revenues need to rise further and/or costs fall for Commvault to make the kind of profit it recorded in fiscal 2014, as the chart above shows. ®