Jinn workers besiege delivery app co-founder to protest wage changes
Couriers allege their pay was slashed retroactively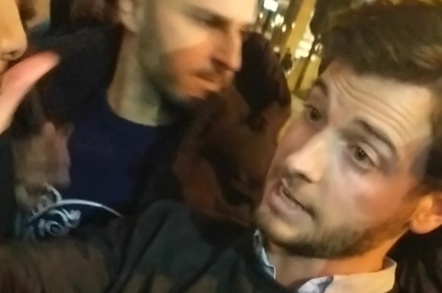 Unpaid workers for the "sharing economy" delivery outfit Jinn who claimed they hadn't been paid besieged the company's co-founder to demand their wages last week.
The angry encounter was captured on video by Reg reader Gareth Davies.
Couriers surrounded co-founder and chief operating officer Leon Herrera Saez-Benito outside Jinn's Aldgate office.
The couriers complained that Jinn had retroactively changed their working conditions, and claimed it had failed to pay them for two weeks. Couriers can be heard protesting: "We're not your slaves."
A shocked Davies told us: "Many seem to be recently arrived first generation immigrants. They can't qualify for bank accounts and lack the ID required to start a bank account, such as a utility bill. They have nowhere else to go."
Herrera responds by pulling out a wad of prepaid credit cards. "Salary cards" are a popular way of paying informal labour.
Couriers claim Jinn wants to change their terms (retroactively) from an hourly rate plus a per-delivery payment to just a per-delivery payment.
Jinn describes itself as "an urban logistics and delivery platform that allows users to order anything they wish for from local stores and get it delivered in under one hour".
It was already operating in London and Manchester when it received £7.5m in Series A funding in April last year, according to TechCrunch. It has subsequently expanded into Birmingham and Newcastle, advertised for positions in Madrid, and has been buying TV ads.
One of Jinn's early investors, Paul Smith, sounded impressed in 2014. "What's different about Jinn is that they've cracked courier recruitment, scaling and other issues by being very clever about who they're targeting," he said.
That doesn't seem to be the case now.
"They don't have enough orders," one worker tells Davies, who was filming from his smartphone. Jinn is advertising for "self-employed" couriers with an "estimated" hourly rate of £12.50, but couriers say in reality it is below the statutory minimum wage.
Jinn told us: "We want the Jinn delivery marketplace to benefit all stakeholders: couriers, customers and merchants. The updated courier payment structure reflects this, as it's designed to reward and incentivise couriers. The development in the payment structure means couriers continue to have complete flexibility of when to work, and the ability to reject and or accept order proposals. In regards to expansion, we have no immediate plans for further European expansion at this time."
Hundreds of Deliveroo couriers went on strike in August and the company was ordered to pay the minimum wage. The taxman is taking a closer look at gig economy payments.
Davies also wrote about the encounter here.
In 2014, the government appointed Debbie Wosskow to conduct an "independent review" of the gig economy. Wosskow is CEO and founder of LoveHomeSwap.com, a "sharing economy" startup, and she concluded that the gig economy was a good thing (PDF) and needed to be encouraged. ®
Sponsored: Detecting cyber attacks as a small to medium business