Fired Ofcom Remainer bod sues UK gov for withholding his payoff
Board member claims he was sacked for slamming Trump and Brexit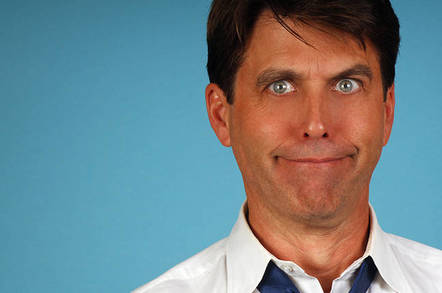 A sacked board member of UK telco regulator Ofcom is suing the British government for refusing to give him a £75,000 ($92,500) payoff.
Bill Emmott wants a judicial review of the decision by Culture Secretary Karen Bradley to fire him after the government took offence at a number of articles that criticized Brexit and slammed Donald Trump as "America's Berlusconi."
The former Economist editor was warned prior to the Brexit vote in June that his journalism risked breaking the Ofcom code of conduct and he should steer clear of politics and public policy issues, as it might be used to call into question his neutrality in future Ofcom judgments.
As chairman of Ofcom's content board, from April, Emmott would have been responsible for overseeing the BBC's editorial standards.
But Emmott disagreed with the warning, claiming he had already discussed the risk of conflict and that he would simply recuse himself from any decisions on specific topics. Ofcom's chief executive, former Treasury mandarin Sharon White, was unpersuaded and told Emmott to his face that he should never have been hired in the first place.
She was backed by Ofcom chair Patricia Hodgson who had persuaded Emmott to take the job in the first place, but seemingly did not imagine that top media executives actually produced any content themselves (she was at the BBC).
After Emmott was disinvited to an Ofcom board meeting in July, he claims to have negotiated a settlement where he would get paid £75,000 to leave quietly. That deal needed the sign-off the Culture Department, however, and Bradley was not happy about it.
Blame game
According to Emmott, who later published his exchanges with the Department of Culture, he was contacted a month after the agreement was reached and told that the government would only agree to a "no-blame" settlement with no compensation.
In other words, bugger off or we will trash your reputation.
It was not an approach that sat well with Emmott and he demanded proof of "the serious and defamatory allegations you make of misbehaviour by me." That proof was later provided: he had tweeted three articles written by others and written three articles – in the Italian press – that covered Trump, the BBC and Brexit.
These were not sufficient grounds for terminating his contract on misconduct charges, Emmott argued, and so he should be compensated for his early termination.
Just days later, the culture secretary fired him with a terse letter. "Your appointment to the Ofcom board is terminated with immediate effect," she wrote, adding this his "misbehaviour" meant he was not entitled to any compensation.
According to the law, Emmott then had three months to question that decision. This week he decided to do so, telling the Guardian: "I aim to get the costs paid by DCMS, but if I lose I'm willing to bite the bullet because of the principle involved. The government should not behave in this way."
He then accused Bradley of "unreasonable behaviour" and suggested she be fired. In response, a spokesman for the Culture Department told the Guardian that "when the secretary of state looked at the case, she was clear taxpayers' money must not be used to reward a breach of conduct."
And so everyone – from a top editor to a government minister to the heads of the media regulator – comes out looking like a bunch of incompetent, egomaniacal clowns. The decision to scrap the BBC Trust is looking better every day. ®