CBI: Brexit Britain needs a 'sensible and flexible' immigration programme
Calls for benefits of foreign workers to be recognised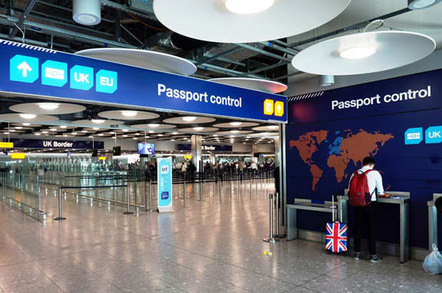 Employers have called for a "sensible" immigration programme to recruit and retain overseas talent in a post-Brexit Britain.
The call from the Confederation of British Industry (CBI) came as it emerged that European Union citizens have started to look to countries other than Britain to take up working positions.
CBI deputy director general for policy and campaigns Josh Hardie outlined the group's position talking to The Reg ahead of PM Theresa May's planned speech today (Tuesday) supposedly outlining 12 objectives for a so-called "clean" Brexit.
Hardie also urged the British government and Brussels to quickly resolve the status of EU citizens working in the UK.
The process of negotiations where the UK leaves the EU, Article 50, has yet to be triggered by Number 10.
Statements from ministers have indicated a willingness to use the presence of EU nationals in the UK as a kind of pawn once talks commence to gain leverage.
Ministers last year spoke of UK employers needing to maintain lists of foreign workers and last week of an annual £1,000 tax per EU citizen they employ.
Initial post-referendum talk of an Australian or Canadian "points-based system" to work in the UK was knocked on the head by incoming PM May.
Number 10 is fixated on border control while for Brussels free movement of workers is a founding principle under the Treaty of Rome.
"We will need an immigration system that recognises the economic benefit of immigration and lets companies respond where there's a skills gap or a labour shortage," Hardie said.
"The system need to be adaptable, simple and practical, and address public concerns over control."
Hardie said that since June's vote to leave the EU CBI members had experienced difficulty persuading overseas recruits to take up positions here.
The degree to which employers are struggling varies sector by sector.
The Department for Work and Pensions, speaking at the same AWS event as the CBI last week, said it was facing pressure from Brexit on two fronts.
One was increased workload and the other was recruitment.
DWP director Juan Villamil said: "Brexit has increased the amount of work we have to do within departments and we have to see what Brexit can do for us in terms of technology.
"It's increased the pressure on us in the amount of work we need to do and increasingly the challenge we have in attracting the talent."
The CBI, meanwhile, said a top priority for London and Brussels should be to remove the uncertainty whether EU nationals already in the UK will be allowed to continue working here.
"We have been clear: the number-one priority of the government should be to provide as much assurance as possible for EU nationals working here," Hardie said.
"We have urged the government and the EU to provide certainty... it should be top of the pile once Article 50 is triggered."
He said CBI members were "very attuned to the emotional aspect" of Brexit, working with and supporting EU staff members since the vote. ®
Sponsored: Detecting cyber attacks as a small to medium business