BT installs phone 'spam filter', says it'll strain out mass cold-callers
We know you've been in an accident. It says so in our *beeeeep*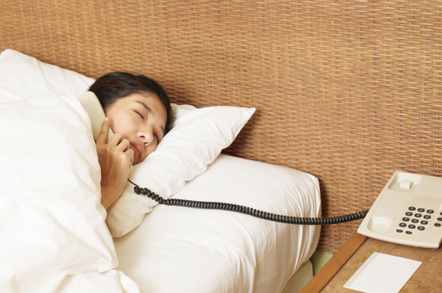 BT has opened a free nuisance call screening service, which it estimates could junk 15 million cold calls - such as PPI and accident claims - to a voicemail box.
The Call Protect service will use what it described as "huge computing power" to analyse large amounts of live data, said BT. The Register has asked for specifics on how the network admins are going about this, and will update if we hear more. We have also asked if the measure will be effective against caller ID spoofing.
BT has said that experts at its centre in Oswestry in Shropshire will be able to identify "rogue numbers" – typically those that make enormous numbers of calls - and add them to a BTblacklist.
"It works proactively to divert calls before they even reach and irritate a customer, unlike reactive blocking where the customer has been troubled and where the numbers used by nuisance callers are changed frequently to avoid detection," said BT in a statement.
Customers will be able compile their own personal blacklist by adding individual unwanted numbers. They can add a number simply by dialling 1572 after receiving the call or by going online.
Digital minister Matt Hancock described nuisance callers as "a terrible blight on society" and welcomed the service.
He said: "We've forced companies to display their numbers when they call you, made it easier to prosecute those involved in making the calls, and increased the maximum fines up to £500,000."
BT has published the nuisance call figures for the seven days between 13 – 19 December 2016 to illustrate the Top five worst nuisance callers by category.
Accident claims were the biggest nuisance call, with a volume of 12,288,022 (39 per cent), followed by 2,903,946 PPI calls and 2,673,665 "computer scam" calls. ®
Sponsored: How to Process, Wrangle, Analyze and Visualize your Data with Three Complementary Tools