FCC slams Verizon, AT&T over zero rating, gives T-Mobile US a hug
Watchdog's staff outline new guidelines, but it won't matter if Commissioner Pai has his way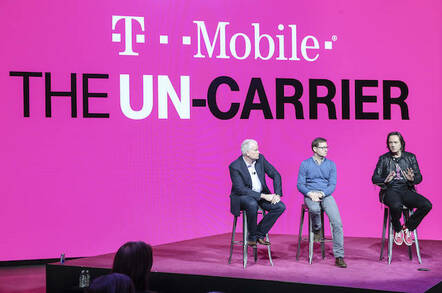 US comms watchdog the FCC has issued new guidelines on the controversial practice of "zero rating" and whether it is illegal or not.
The upshot is that it has given T‑Mobile US's Binge On service a green light, but comes down on AT&T's Sponsored Data service and Verizon's FreeBee Data 360 as illegal.
We already knew from letters sent to AT&T and Verizon in December that FCC staff have determined that their services – where users do not have certain services counted against their data caps – broke net neutrality rules. But the report [PDF] is the first time the federal regulator has outlined how it will make future determinations on what is and is not allowed.
Its publication was greeted with some anger by one of the FCC's Commissioners. Ajit Pai put out a statement shortly after publication claiming that it had been put together and published without his knowledge and represents a "partisan, political agenda" that "does not reflect the views of the majority of Commissioners."
AT&T and Verizon have also previously slammed the decision, claiming that the FCC does not have the authority to make such a determination given the results of the presidential election.
The election of Donald Trump is both irrelevant and directly relevant to the issue. The net neutrality rules remain the law and the FCC staff's determination of how those rules are applied is a critical component of the federal regulator's job.
However, due to the partisan nature of the net neutrality regulations (Republicans and Big Telco are strongly opposed to them), it is highly likely that a Trump Administration and Republican party will try to do away with the rules altogether and in the meantime will refuse to enforce them.
"I am confident that this latest regulatory spasm will not have any impact on the Commission's policymaking or enforcement activities following next week's inauguration," Pai noted.
Case closed
The issue of zero rating has been a highly contested one. When the FCC passed net neutrality rules in 2015, it declined to decide on whether the practice was illegal and said it would instead look at the topic on a case-by-case basis.
Since then, a number of telcos have come out with new services that directly impact millions of customers, and that the FCC has felt obliged to look at.
The staff report notes that "some sponsored data offerings might benefit consumers and competition, but others, depending on their structure, might restrict consumer choice, distort competition, and hamper innovation."
And it offers guidelines for determining which is which, such as whether the service favors affiliate services or creates "exclusionary relationships" or "amounts to blocking or throttling" by impairing other services.
When it comes to T‑Mobile US Binge On services, FCC staff decided that the service "did not compel edge providers or consumers to participate in Binge On, and did not charge them anything if they opt to do so" – and therefore was legit.
However, AT&T's Sponsored Data program "presents competitive problems" because it "imposes hefty per-gigabyte charges on unaffiliated third parties for use of Sponsored Data" – charges that "far exceed the costs AT&T incurs in providing the sponsored data service."
In other words, AT&T prices competitors to its own affiliate out of the market – something that the FCC staff say breaks the rules. And it raised the same concerns with Verizon's FreeBee Data 360 program.
It concludes that some zero-rated services are "unreasonably discriminating in favor of select downstream providers, especially their own affiliates."
Real politik
While those seem like eminently reasonable determinations, the fact that the FCC chair will step down in just over a week and be replaced by someone who almost certainly will be opposed to net neutrality rules on a point of principle has raised hackles.
The report will continue to exist and will be used to determine what zero-rating services are allowed – at least until the reformed FCC, or Congress, gets around to replacing the Open Internet Order with a new system. But it is questionable whether any enforcement actions brought to the Commissioners using the report's guidelines as a basis for action will meet approval.
Or, in other words, the FCC continues to waste its time by kidding itself it remains a non-partisan government regulator. ®
Sponsored: Becoming a Pragmatic Security Leader