Google sends Titan broadband drones to the unicorns' graveyard
Alphabet shutters another
moonshot

bad idea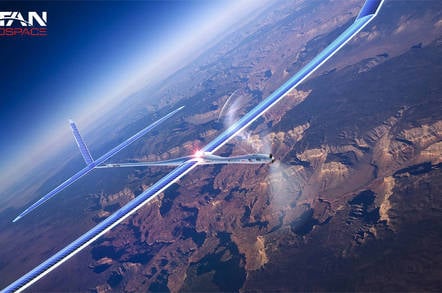 Being bought by Google X increasingly looks like a kiss of death: Alphabet has shuttered the Titan project which proposed hosting solar-powered broadband on high-altitude solar-powered drones.
The move was first spotted by 9to5Google, which says staff at the division will be farmed out to its Project Loon (broadband stratospheric balloons) and Project Wing (yet another delivery drone).
After it bought Titan in 2014, Google treated it as one of its "moonshots", but in 2016 it fell prey to the more disciplined financial management put in place by Alphabet CFO Ruth Porat.
In 2015, Sundar Piachi promised Mobile World Congress that the drones would be beaming broadband within "months", but Titan never really took wing.
It's not the only airborne acquisition Alphabet is practicing its side-eye on: according to Bloomberg, its US$500 million acquisition, Skybox Imaging, is within earshot of the auctioneer.
When it made the buy in 2014, Google said Skybox would improve Google Maps.
Just why taking over the satellite company was better than being its customer was never explained. Last year, Google renamed the outfit Terra Bella.
The Bloomberg report says some staff will move to the mooted buyer, Planet, while others will scan the internal job boards. ®