AT&T CEO clambers up Trump's tower, explains why he should shower gold for Time Warner
Randall Stephenson makes case for yuuuge merger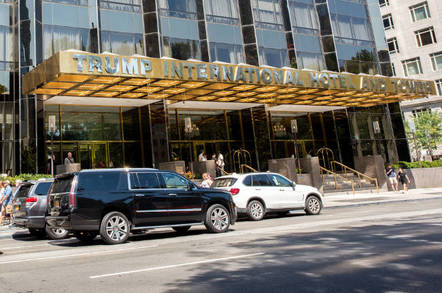 AT&T boss Randall Stephenson has been spotted at Trump Tower in New York City – reportedly in an effort to sell the president-elect on his company's plan to buy Time Warner.
The CEO was seen entering the Trump headquarters on Thursday for a meeting with The Donald. Reuters cites sources familiar in reporting that the meetup was in fact about the $85.4bn merger with Time Warner that AT&T announced last year.
The deal would give AT&T, which already owns DirecTV, further control over the US media by adding, among other properties, media giant CNN. Concern over the consolidation drew widespread condemnation from both sides of the isle, and was a rare point of agreement between Trump and Democratic nominee Hilary Clinton.
Trump flat out said at the time that the merger was "a deal we will not approve in my administration because it's too much concentration of power in the hands of too few." Since then, he has also called out CNN for its coverage on the allegations of Russian election tampering and the reported ties between Trump and Vladimir Putin.
Earlier this week, the president-elect took the feud a step further by refusing to answer questions from a CNN reporter and condemning the network as "Fake News."
Now, Stephenson is looking to change Trump's mind on the merger, or at least allay some of his fears around the tie-up. Analysts have noted that AT&T could sidestep a number of regulatory issues – including the requirement of FCC review – by divesting certain pieces of the Time Warner media group (such as local TV stations).
Other concessions could similarly help soften government opposition to the deal, particularly as the anti-regulation Trump administration transitions into power. ®
Sponsored: Your Guide to Becoming Truly Data-Driven with Unrivalled Data Analytics Performance