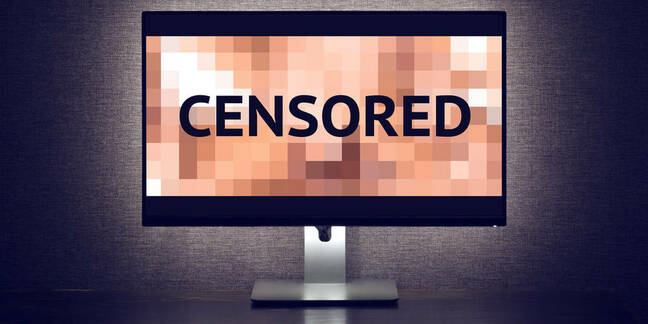 Over to North Dakota, US, now and a new front in the war against cyber-smut has opened up.
A proposed law will force porno-blocking filters onto computers and smartphones sold in the conservative state – with a charge to remove the censorship.
Bill 1185 [PDF] will require laptops, cellphones and other internet-capable devices to be sold with a "digital blocking capability" that will bar the gadgets from displaying "obscene" material or performances, as well as websites that promote prostitution or human trafficking. It won't be applied retroactively to hardware already in people's hands, but will apply to all new devices sold after August 1 this year, if passed.
"An internet service provider's router, or a cell phone, laptop, computer, gaming device, or other product that distributes the internet or makes the content on the internet available, is classified as a pornographic vending machine and must be treated as such," the bill reads.
Those people wishing to disable the blocking must apply in writing, submit to a "face-to-face encounter, either in person or through other means" for age verification, acknowledge the receipt of a written warning about the dangers of deactivating the filters, and pay a $20 (£16) charge.
It's not clear if that twenty bucks is per person or per device – if the latter, then given the number of internet-connected devices contained in the average family home, that's a lot of cash. There's been no response as yet from cosponsor Senator Janne Myrdal (R-District 10) to an inquiry from The Register on the topic. The draft law, introduced on Monday, will be scrutinized by the state's judiciary committee before it goes any further.
The state government will collect porn filter fees from vendors and put the cash into a crime victims' restitution and gift fund to pay for the housing, legal, and employment costs of victims of human trafficking and child exploitation.
Any manufacturer or wholesaler will also have to issue regular updates to the filter "within a reasonable time," and host a call center or website for concerned citizens to report material they have accidentally discovered online. If obscene websites aren't blocked fast enough, providers can be sued for $500 for each site not blocked, plus all legal fees.
The bill echoes similar legislation proposed last month in South Carolina, which again called for mandatory and maintained filters that required $20 to bypass. Again the money would go to funding human trafficking victims, and in neither case is the method of blocking obscene content specified.
There is no news – as yet – on plans for envelope makers to have similar filtering systems mandated to block those who receive their pornography by post. ®
Sponsored: How to simplify data protection on Amazon Web Services