This'll be the next thing Trump crows about: Apple assembling servers on American soil
Jobs created, jobs lost – and we're not talking Steve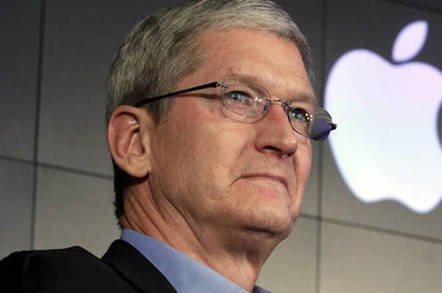 Apple boss Tim Cook and US president-elect Donald Trump aren't exactly best buds. However, the iPhone maker could soon land the honor of a congratulatory tweet from the jumped-up telly celeb – after it revealed it is expanding its manufacturing in America.
Two years ago, Apple announced it would build a $2bn data center in Mesa, Arizona, at a facility formerly owned by its erstwhile ally GT Advanced Technologies.
Fast forward to this month and buried in the US government's Federal Register notices is a letter from the Foreign-Trade Zones Board. It details Apple's desire for permits to assemble its own servers at the Mesa site, rather than ship in completed boxes from overseas.
This comes after Trump virtually commanded Apple and other industry giants to build more hardware on American soil – and has gloated on Twitter when corporations announced they are expanding manufacturing in the US, effectively taking credit for decisions he had no part of.
Crucially, Apple wants a tax break on the server components it will import prior to assembling the data center boxes.
"Production under [Foreign-Trade Zones] procedures could exempt Apple from customs duty payments on the foreign-status materials/components used in export production," the notice reads.
"On its domestic sales, Apple would be able to choose the duty rate during customs entry procedures that applies to finished server assembly cabinets (duty-free) for the foreign-status materials/components noted below and in the existing scope of authority. Customs duties also could possibly be deferred or reduced on foreign-status production equipment."
The products Apple would like to ship in at these reduced rates include servers, solid state drives, lithium batteries, routers and network switches, monitors, electronic integrated circuits, and metal furniture. Everything you need for an assembly plant of the kind called for by the next occupant of the White House.
"We're gonna get Apple to start building their damn computers and things in this country, instead of in other countries," Trump promised at a campaign stop last year. He threatened new taxes on Apple and other tech firms that didn't start building their kit domestically.
So we might be getting one of Trump's trademark Twitter blasts proclaiming how his election is causing Silicon Valley to rethink shipping good American jobs abroad. The cream of the tech industry (and whatever else floats to the top) came to Trump Tower to metaphorically kiss the new leader's ring.
But as ever with these things, there's slightly more to it than that, once you dig into the details.
The half-life of jobs in the Black Mesa
It appears unlikely that anyone's going to be proudly sporting a Made in America sticker on their iPhones, iPads or Watches any time soon. Past filings detail a very different kind of manufacturing will be going on.
Apple is a member of the Open Compute Project and builds its own servers locally at data centers in the US. But an anonymous source told Business Insider that the Mesa facility will be used to assemble all the servers Apple uses. This may lead to these regional assembly centers being closed down.
Nevertheless, the move will create jobs in Mesa, which is good because high-tech employment has had a spotty record of late in the city. Although Apple's expansion last year created 150 permanent jobs and between 300 and 500 construction jobs, things have been tough for others.
In 2014, 890 people were laid off when GT's local factory building durable sapphire glass designed for smartphones went bust short years after purchasing a huge array of high-tech glass furnaces to do the job and setting up shop in the city. GT has since claimed that Apple ran it out of business.
Apple loaned GT $350m to build glass-making factories in Mesa, Arizona, and Salem, Massachusetts, to secure a supply of glass for the iPhone. But in bankruptcy hearings, GT's former COO Daniel Squiller claimed his company had fallen for a "classic bait-and-switch strategy" that had driven his company into the ground.
As part of the loan agreement with Cupertino, GT had to commit to supplying glass almost exclusively to Cook & Co – although Apple had no obligation to buy any of it. GT would also have to pay a fine if it sold glass to anyone Apple disapproved of and the whole deal had a $50m charge if GT made the details of the contract public.
When Squiller and the GT board complained, they were told to "put on your big boy pants and accept the agreement." After they did so, Squiller claimed Apple micromanaged the plant, couldn't get the glass they wanted, and then called in its loans and bankrupted the company.
Apple seemingly still can't get the sapphire glass problem right – early reports on the iPhone 7 indicate there are scratching issues with some components. But 890 jobs were still lost, although Apple vowed at the time to reuse the facility.
Now it appears they will, and some of those lost jobs might be filled by the new assembly line. In the meantime, Apple can claim it is doing its bit and Trump can enthuse about his latest triumph. ®
Stop press: Trump may have other things to worry about right now.