UKCloud: We ARE cheaper than Microsoft or AWS online storage
Claim customers need a degree in Amazon pricing to understand it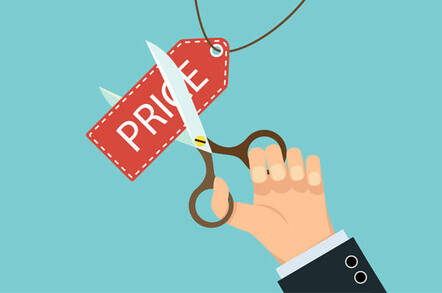 British-based infrastructure services-slinger UKCloud says it is "fighting back" against the giants of industry by slashing the price of online storage.
Customers looking for cheap online storage with data volumes above 1,000 TB will pay 1.46 pence per GB per month, down 66 per cent, and importantly there are no additional charges for reads, writes, bandwidth and support, the firm said.
Punters that opt for 500 TB will cough 1.81 pence per GB per month down from nine pence, though additional charges may apply to this tier.
Simon Hansford, CEO at UKCloud, a big supplier of services to the government under the G-Cloud framework, told us a hyperconverged refresh of its storage platform had let it pass on reduced costs.
"UKCloud's cheapest cloud storage is cheaper than the cheapest [general purpose] cloud storage from both AWS and Azure," he claimed.
The cheapest rate for a comparable AWS storage service is 1.81 per GB per month, and it is 1.83 pence from Microsoft. Both firms also have alternative storage services suited to deep archive stuff.
Hansford said local cloud providers could perhaps be "too paranoid" about AWS and Microsoft but El Reg would question to use of the word paranoid.
No doubt some are looking over their shoulders but with good reason; the AWS marketing machine has done a fine job of talking up price cuts - over 50 since it launched. In contrast this was the tenth such price reduction from UKCloud since it launched.
Hansford said AWS offering "great headline prices" but claimed "customers almost need a degree in AWS pricing because there are so many caveats and gotchas".
The price cut comes in the wake of Microsoft raising its cloud prices by an average of 22 per cent from the start of this month, with the movement of the British pound versus the US dollar blamed.
El Reg has asked AWS and Microsoft for comment. ®
Sponsored: Becoming a Pragmatic Security Leader