Elon's SpaceX gets permission to blow up another satellite or two
FAA clears Musketeers to, fingers crossed, put whole Iridium birds into orbit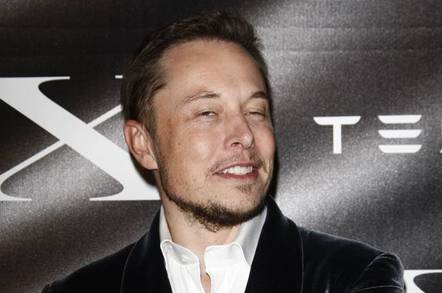 America's Federal Aviation Administration has cleared SpaceX to launch satellites into Earth's orbit using the science upstart's rockets.
This comes after the watchdog scrutinized the cause of last year's dramatic explosion on a SpaceX launchpad: on September 1, a refueling cockup strongly encouraged a Falcon 9 rocket, along with a $200m internet relay satellite on top, to spread itself finely over Cape Canaveral.
SpaceX's own report came out earlier this week, tracing the problem back to helium containers that got too cold. SpaceX's short-term solution is to store the gas at a higher temperature; the long-term solution will involve redesigning the tanks. The FAA seems happy with this arrangement, and has given Elon Musk's space biz a license [PDF] for orbital deliveries.
"The FAA accepted the investigation report on the AMOS-6 mishap and has closed the investigation," the agency said in a statement. "SpaceX applied for a license to launch the Iridium NEXT satellites from Vandenberg Air Force Base. The FAA has granted a license for that purpose."
The news comes just in time for SpaceX, but wasn't entirely unexpected. The organization was obviously anticipating clearance, as it has been prepping a rocket at Vandenberg Air Force Base carrying a cluster of Iridium communications satellites, and there's a launch window open early next week.
Hold-down firing of @SpaceX Falcon 9 at Vandenberg Air Force completed. All systems are go for launch next week.

— Elon Musk (@elonmusk) January 5, 2017
The Iridium contract is important for SpaceX's cash flow. The satellite communications business has already cancelled one contract with SpaceX, and if the Falcon's flight had been delayed further, more contracts could have been in the balance.
Iridium is excited to share we're planned to launch on Monday, Jan 9 at 10:22am PST weather permitting. https://t.co/wiHgvdD6lk #IridiumNEXT

— Iridium Corporate (@IridiumComm) January 6, 2017
Having said that, SpaceX's main customer, NASA, is going to keep the funds coming in for Elon's crew. On Tuesday the agency awarded Boeing and SpaceX four launch contracts to deliver astronauts to the International Space Station, once the two companies have been cleared for human cargo.
"Awarding these missions now will provide greater stability for the future space station crew rotation schedule, as well as reduce schedule and financial uncertainty for our providers," said Phil McAlister, director, NASA's Commercial Spaceflight Development Division.
"The ability to turn on missions as needed to meet the needs of the space station program is an important aspect of the Commercial Crew Program."
On Friday, Elon Musk paid a visit to US president-elect Donald Trump, ostensibly to discuss renewable energy – but we're willing to bet rockets were part of the conversation as well. SpaceX is going to try for a launch of its Falcon Heavy superlifter, and having a friend in government could help the massive rocket get some lucrative payloads. ®
Sponsored: Webcast: Build the next generation of your business in the public cloud