That's the way the Cook, he stumbles: Apple CEO pay cut as sales tank
Thought you had a bad 2016? The iBoss had to live on a mere $8.7m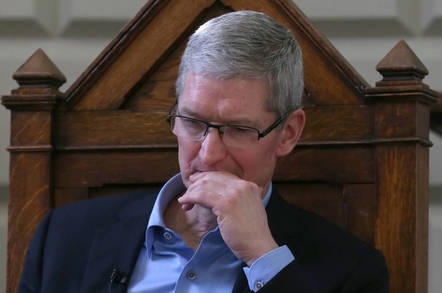 Peak Apple With Apple revenues down, and the normally docile tech press finally turning on the iPhone maker, top executives at the Cupertino giant – including CEO Tim Cook – took a pay cut in 2016.
In its annual filing with the SEC, Apple Inc reported that its CEO was hit with a 15 per cent pay cut last year.
Steve Jobs' protege logged a base salary of $3m in 2016, while bonus pay tacked on another $5.7m. That is a drop from 2015, when Cook took home $10.2m, and 2014 when he made $9.2m.
The drop in pay comes thanks to the slowdown in revenue growth at Apple. Even though Cook made more in base salary (he got just $2m in 2015), the bonus pay he received in 2016 was down 33 per cent from 2015, when Cook got an $8m bonus package.
This as Apple has seen much of the luster wear off of its flagship iPhone lineup. With the market already saturated for smartphones, and production issues lingering, Apple saw a drop in phone sales for the first time in years, and overall revenues began to dip from their record highs a year ago.
Don't feel too bad for Cook, however. His modest $8.7m take-home was fortified by a package of vesting stock options that netted him a cool $135m payout earlier in the year.
Apple also shelled out $220,432 to cover Cook's security costs, $138,462 in vacation cash-out pay, $15,900 in contributions to Cook's 401k plan, and $2,925 to cover his life insurance premiums.
Other Apple execs actually fared better than the CEO in 2016. CFO Luca Maestri, software head Eddy Cue, retail head Angela Ahrendts, hardware lead Dan Riccio, and general counsel Bruce Sewell all netted $20m stock awards from the company, in addition to their $1m salaries and $1.79m bonuses.
Even Apple's board members took home a tidy pay package last year. Al Gore was given $352,492 for his time, while Bob Iger made $377,289, and James Bell pocketed $465,551.
Sadly, Sir Jony Ive was not listed in the filing, so we can only speculate what the design guru gets paid to narrate watch ads these days. ®