Banned! No streaming live democracy from your phones, US Congress orders reps
New rules put kibosh on internet videos from House floor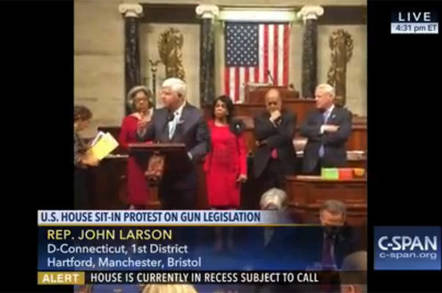 The next session of the US Congress will include a ban on representatives shooting and streaming video from the floor of the House.
The Republican-dominated House of Representatives voted 234-193 to enact the new rules ahead of the opening of the 115th session of the US Congress.
The rule calls for a ban on any use of an electronic device to record or broadcast the proceedings from the floor of the House, should lawmakers decide to shut down cameras during a vote.
"The Sergeant-at-Arms is authorized and directed to impose a fine against a Member, Delegate, or the Resident Commissioner for the use of an electronic device for still photography or for audio or visual recording or broadcasting," the rules state.
Those members who violate the rule will face an initial fine of $500 and could face further charges adding up to $2,500 for each violation.
The move comes after a summer session in which house Democrats waged a 25-hour sit-in marathon to protest for gun control legislation. After Republican leadership had ordered that cameras broadcasting the event be turned off, the lawmakers resorted to the use of the Periscope mobile phone app to stream video of the proceedings. The feeds were picked up and rebroadcast by television networks in lieu of official video footage.
One of those who broadcast the sit-in, Rep Scott Peters (D-CA), condemned the new rule as a partisan attempt to hide proceedings from the public.
"At a time when America's trust in their government is at a deep low, it's a sad thing for the Speaker of the House of Representatives to want to punish members of Congress for shining a light on the actions of the people's elected representatives," Peters said in a statement on the rule.
"[House Speaker Paul] Ryan's plan to create another barrier between the people and their government is as out of touch as the fact that he won't let us take a single vote on bipartisan proposals to curb gun violence."
The 115th Congress is kicking off its first session this week. ®
PS: The aforementioned new rules will also allow committee staff to quiz government officials and private citizens under oath without lawmakers present in certain circumstances.
Sponsored: Becoming a Pragmatic Security Leader