China to Donald Trump: Twitter diplomacy 'undesirable'
Old-school PRC response to the 140-character kid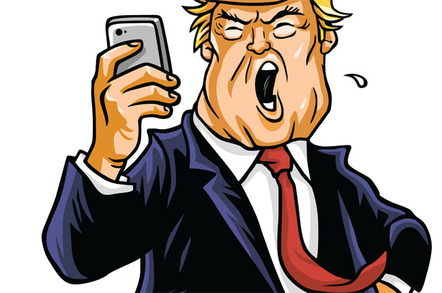 Incoming US president Donald Trump has been reprimanded by China for indulging in "Twitter diplomacy".
State-media service Xinhua is reported to have run a commentary on Trump's tweets, saying: "An obsession with 'Twitter foreign policy' is undesirable."
The Chinese-language version of Xinhua is reported to have continued:
"Everyone recognizes the common sense that foreign policy isn't child's play, and even less is it like doing business deals."
The piece reportedly continued: "Twitter shouldn't become an instrument of foreign policy" but noted issuing hardline tweets and talking up sensitive issues "may perhaps add to his chips for negotiating with other countries."
The rebuke followed a tweet by Trump – or whoever is running Trump's Twitter account – critical of China's protection of renegade nuclear patron North Korea.
China has been taking out massive amounts of money & wealth from the U.S. in totally one-sided trade, but won't help with North Korea. Nice!

— Donald J. Trump (@realDonaldTrump) January 2, 2017
Trump riled China in December using that oldest-of-old-world communications channels, the phone.
President-elect Trump broke protocol by talking to Taiwan president Tsai Ing-wen upon his victory in the November US presidential election.
Trump responded to China's concern over the call, typically, on Twitter:
Did China ask us if it was OK to devalue their currency (making it hard for our companies to compete), heavily tax our products going into..

— Donald J. Trump (@realDonaldTrump) December 4, 2016
China disputes the independent status of Taiwan and the leaders of Taiwan and the US have not spoken since 1979. Trump's team downplayed the call, but it's reported it was an event months in the planning designed to signify a shift in US relations with the island nation and the overall relationship with China. China has a long-standing claim of sovereignty over Taiwan.
When it comes to trolling China, Trump has form.
The concept of global warming was created by and for the Chinese in order to make U.S. manufacturing non-competitive.

— Donald J. Trump (@realDonaldTrump) 6 November 2012
Sponsored: Becoming a Pragmatic Security Leader