Robo-supercar hype biz Faraday Future has invented something – a new word for 'disrupt'
Reformat the future? More like, reformat all hope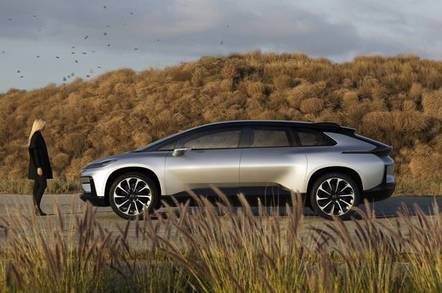 CES 2017 While the crowds at CES in Las Vegas are all agog at the Faraday Future FF91 supercar, you can stop saving your pennies. Half Life 3 will be released before these allegedly self-driving vehicles roll out in volume.
Faraday Future, based in Gardena, California, claims the FF91 is the fastest accelerating car in the world, with 1,050HP available. It has a retractable steering wheel for autonomous driving, a futuristic interior, and it promises to be an internet-connected vehicle that can whisk you safely to work while feeding you news and entertainment.
At the launch on Tuesday, Faraday Future senior veep Nick Sampson and Jia Yueting, the boss of Chinese conglomerate LeEco – which is bankrolling the car's development – promised to "reformat" the electric car industry and usher in a bold new age of clean and powerful transport that would change the automotive world. It bragged it would "reformat the future," seemingly disrupting the trendy tech buzzword "disrupt", zeroing it out, and replacing it with "reformat." Now that's innovation.
"reformat" is 2017's "disrupt" :( pic.twitter.com/PGLM5fsYRv

— The Register (@TheRegister) January 4, 2017
But all was not well with the car – it failed to demonstrate its self-parking feature on stage at the first attempt, leading Sampson to joke it was lazy. Then again, this shouldn't have been surprising, since the first time this car was shown off to the Western press, it failed to work as advertised.
That was back in October, when LeEco hired out the Palace of Fine Arts in San Francisco to launch itself into the American market with the claim it would take on Tesla, Google, and Apple with the FF91, smartphones, smart TVs, and even an Android-powered bike. The Faraday Future robo-ride was supposed to drive down a central walkway carrying Jia, but sadly there were technical problems.
The explanation was rather convoluted for this, involving mechanical problems, local regulations, and the fact that the car had been lent to film director Michael Bay for the new Transformers movie. That alone should have been a warning – Michael Bay is to product launches as Typhoid Mary was to public health, as Samsung found out to its cost.
Almost immediately after the October jamboree, Jia was forced to admit that LeEco had overreached itself and was running out of cash. LeEco is essentially financed by wealthy Jia – who owns plenty of shares in Chinese web-streaming giant Le.com – however the outfit's wild ride into so many hardware areas will be cut short, Jia said.
LeEco has produced some good products. We reviewed its first US smartphone and were favorably impressed, although it's difficult to see how the biz could make much of a margin on it. Meanwhile, there's a world of difference between building a smartphone and manufacturing and selling a self-driving electric supercar.
The plan was for Faraday Future to build a massive factory in Nevada, US, and start churning out these futuristic vehicles by 2018, in direct competition with Tesla. Faraday Future has poached several staff from Google and Tesla to make this happen, but looks more likely to mimic Fisker rather than Tesla.
In November, work on the Nevada site was halted, according to its construction company. Nevada's State Treasurer Dan Schwartz said that Faraday's plans were a "Ponzi scheme," and likened the company to the disgraced fraudster Bernie Madoff.
In the meantime, groundbreaking on a factory site in China reportedly began just after Christmas. Around the same time, senior figures reportedly started leaving Faraday, including big cheese Ding Lei.
Yet all of this seems to have been forgotten by the more slavish members of the press just two weeks later. While everyone has been dazzled by the sound and light show – and to be fair it is a very pretty car indeed – nobody's looking behind the curtain.
It may be that LeEco can suddenly come up with more funds and that the builders can erect a car-building factory in less than half the time as Tesla, get the necessary permits to build, run, and drive these cars on the road, and do it with all the claimed performance and self-driving abilities. But your humble hack isn't betting on it. ®
Sponsored: Webcast: Build the next generation of your business in the public cloud