Elon burning to get Falcon back on the launchpad
Pressure vessel buckled, something sparked, oxygen exploded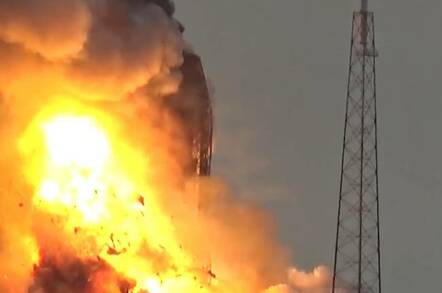 Only a regulatory sign-off stands between Elon Musk's SpaceX and the restart of its Falcon 9 launch program within a week. With its anomaly investigation complete, the company hopes to launch a Falcon carrying Iridium's NEXT satellite from Vandenberg on January 8.
The Elon Musk spaceflight company says the catastrophic September 2016 explosion happened because one of three pressure vessels (known as composite overwrapped pressure vessels, COPVs) in its second stage liquid oxygen (LOX) tank failed.
Oxygen accumulated between the COPV liner and its overwrap, and something – friction or a breaking fibre – sparked to cause the explosion.
The announcement confirms the company's September hypothesis about the cause of the blast, and comes after engineers combed through 3,000 channels of video and telemetry covering the 93 milliseconds from the first anomalous data to the earth-shattering kaboom.
In its January 2 anomaly update, SpaceX gives more detail on the possible scenario:
Each stage of Falcon 9 uses COPVs to store cold helium which is used to maintain tank pressure, and each COPV consists of an aluminum inner liner with a carbon overwrap. The recovered COPVs showed buckles in their liners. Although buckles were not shown to burst a COPV on their own, investigators concluded that super chilled LOX can pool in these buckles under the overwrap. When pressurized, oxygen pooled in this buckle can become trapped; in turn, breaking fibers or friction can ignite the oxygen in the overwrap, causing the COPV to fail.
The update says the liquid helium loading temperature was low enough to create solid oxygen, which "exacerbates the possibility of oxygen becoming trapped as well as the likelihood of friction ignition".
SpaceX's proposal, which will need regulatory sign-off before its next launch, is to reconfigure the COPVs to use helium at a warmer temperature during loading, "as well as returning helium loading operations to a prior flight proven configuration based on operations used in over 700 successful COPV loads".
In the longer term, the COPVs will be redesigned so they won't buckle. ®
Sponsored: Quit your addiction to storage