Government calls for ideas on how to splash £400m on fibre
Soz bumpkins, it's not for you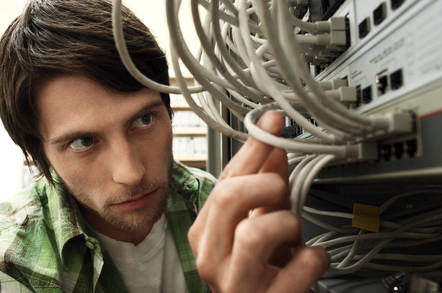 The government is asking for ideas on how it should splash £400m earmarked for fibre broadband investment.
Its call for evidence document follows the announcement in the Autumn Statement, which aims to invest up to £1bn in digital infrastructure via matched private sector finance.
It also intends to fling £700m at 5G - even though the international standards and requisite spectrum have yet to be agreed upon.
Currently 91 per cent of the population has access to 24Mbps, which the government reckons will now increase to 97 per cent by 2020, . That is due to a £440m claw back from the 1.7bn publicly-funded broadband scheme.
Digital minister Matt Hancock said the document "sets out a number of approaches we can take to stimulate the market to extend full fibre networks in areas across the UK, including full fibre business vouchers, public sector data aggregation and supply side approaches."
The government is particularly keen to hear about the pros and cons of local full-fibre schemes, as well as projects that specific suppliers have undertaken.
Another measure mooted is a full-fibre connection voucher "to help connect businesses where it is uneconomic for network operators to connect individual business premises."
Calum Kerr, SNP MP for Berwickshire, had previously called on the government to introduce a voucher scheme for universal broadband connectivity of at least 10Mbps, as a means of more effectively boasting rural broadband speeds. But that move was rejected.
Unsurprisingly the document was light on detail in directly funding fibre in "uneconomic areas" - instead pointing to the BDUK superfast broadband scheme.
Dan Howdle, analyst at broadband comparison site Cable.co.uk, has said the £400m digital infrastructure scheme is aimed at city areas where there are big businesses.
He said the measures are "part of a package aimed at keeping businesses in the UK" and are not really intended to improve connectivity outside of major cities.
The consultation will close on 31 January 2017. ®