What gifts did ol' kitten heels May get this year?
Shoes and handbags, of course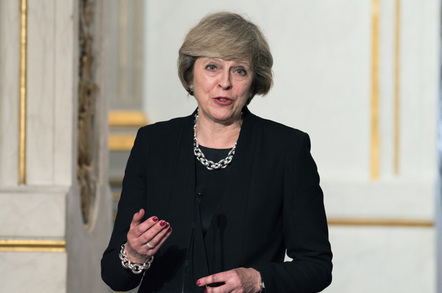 Working out what to get anyone for Christmas is tricky, so you can be forgiven for falling back on broad stereotypes. A drill for dad. Perfume for the girlfriend. Wirecutters for BOFH.
Spare a thought then for the ministerial gifts given to Prime Minister Theresa May, in the quarterly returns published this week.
What do you get the girl who has everything?
Unparalleled surveillance powers? Tick. Humiliation for those to have crossed her? Tick. A speedy Brexit?
Better not go there...
Luxury Legs, supplier of expensive tights, thought what May would really appreciate most was some hosiery. Meanwhile Yull Shoes gifted her some designer footwear, as did Goodley Bullen PR. More kitten heels, no doubt.
Other gifts May received included a handbag, scarf and cosmetics. All of these were held by the department for being over the limit of what MPs are permitted to accept.
Intriguingly the Bank of England sent her an early edition of the plastic £5 note - which was surprisingly also held for being a gift over a certain value.
But perhaps its wasn't all bad for May. During the last quarter before stepping down as PM, David Cameron only received was a commemorative coin from Kuwait. Poor Dave.
And during the same period May was given all her girly swag, Jeremy Hunt received zilch. Now there's a shocker. ®
Sponsored: What next after Netezza?