Backup Exec console goes AWOL
Latest Windows updates borks Backup Exec console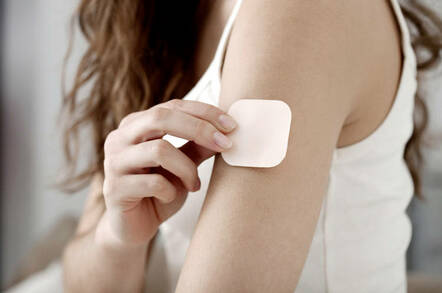 Data security biz Veritas says that some users are unable to log on to its Backup Exec console" after installing the November or December Windows 2016 updates. It has patch removal workarounds to fix this.
The logon error message, shown below, reads: "BackupExec Management Service was unable to start. Connection open and login was successful, but then an error occurred while enabling MARS for this connection. (provider: Shared Memory Provider, error: 15 - Function not supported)."
Veritas's recommendations are to remove some of the updates; the .NET framework patches have been confirmed by Microsoft as being "optional" and "can be safely uninstalled". as optional.
The November 2016 Windows updates apply to Windows 2008 R2, Windows 2012, and Windows 2012 R2, and a reboot is required after the numbered patches below are removed:
Windows 2008 R2

Remove 3195363
Remove 3195388

Windows 2012

Remove 3195383
Remove 3195362
Remove 3195386

Windows 2012 R2

Remove 3196684
Remove 3195361
Remove 3195387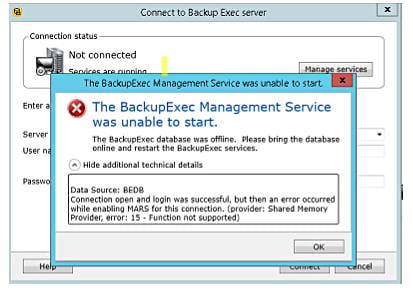 Veritas points out that any Group Policy to automatically download and install Windows updates should be cancelled as "otherwise the just uninstalled Microsoft Windows Updates might be installed again."
There is also a patch removal workaround for the December 2016 Windows update:
Remove 3210137 MS16-155
Remove 3210132 MS16-155
Veritas says this general issue is still under investigation and: "Pending the outcome of the investigation, this issue may be resolved by way of a patch or hotfix in current or future revisions of the software." Check the patch webpage for status updates. ®